Finance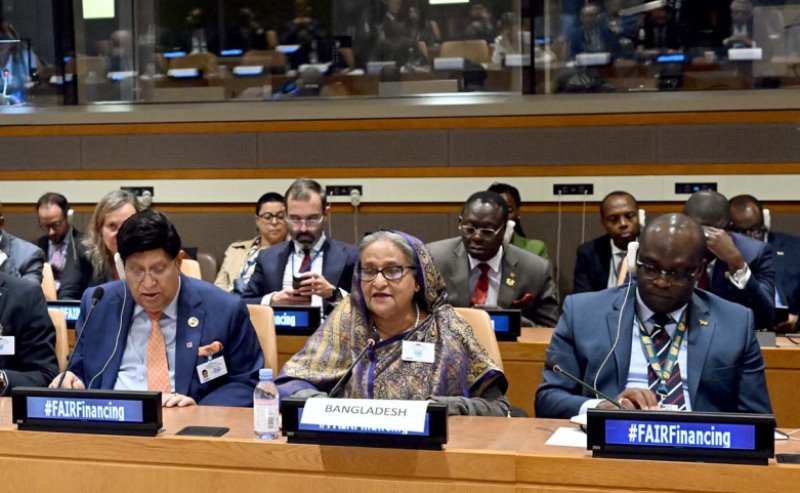 Photo: PID
PM demands restructuring of financial system to overcome global economic crisis
New York, Sept 21: Prime Minister Sheikh Hasina has emphasized the need to restructure the international financial system to deal with the ongoing global economic crisis.
She emphasized this importance at a high-level round table meeting titled 'Towards a Fair International Financial Architecture' organized by Spain and the Council of Europe at the United Nations headquarters on the sidelines of the 78th session of the United Nations General Assembly in New York on Tuesday.
The Prime Minister emphasized the need to review the global credit rating system, as it currently limits access to funds for many low- and middle-income countries.
She said, "We agree with the UN Secretary General that the global credit rating system must be reviewed. The current rating system further limits the availability of funds for many low- and middle-income countries."
Sheikh Hasina said limits on their voting rights, quotas and representation in the Multilateral Development Bank (MDBS) and International Financial Institutions (IFIS) also undermined their bargaining power.
"We often see international public finance as expensive and out of reach," she added. "We try to stay away from high-interest loans to avoid debt hassles. Bangladesh has never defaulted on its debt and we hope to maintain that record."
Noting that it is very important for an international financial-architecture to be inclusive and represent the Global South, she said, "The development record of countries like Bangladesh shows that we can do our part. He said, "It's time to give a nod to our expectations for the international financial system."
"We recognize that the international financial-architecture needs urgent reform. But agreement on the nature and scope of reforms remains limited. And in this case political will is important," she added.
Referring to the Secretary General, the PM said, "A fundamental change is required." For this purpose, the Prime Minister presented a five-point proposal.
Thematic Ambassador of Climate Vulnerable Forum (CVF) Saima Wazed and Foreign Minister Dr. AK Abdul Momen were present that time.