Finance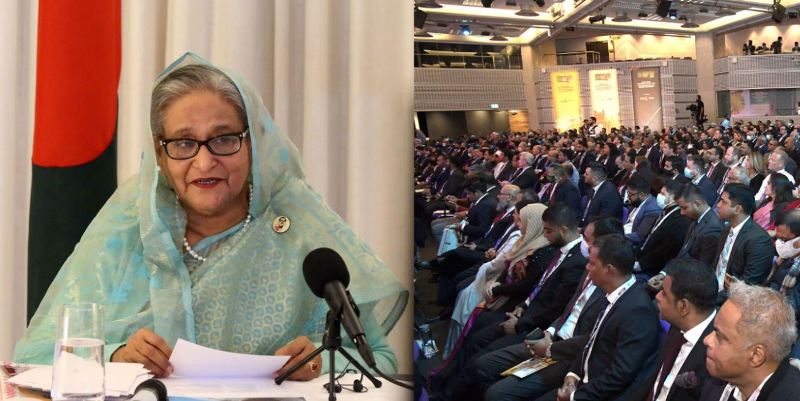 PID
PM Hasina promises maximum benefits to British investors
Dhaka, November 5: Prime Minister Sheikh Hasina has called upon UK investors to take part in Bangladesh's development journey by investing in lucrative sectors. At the same time, she said, there is ample opportunity for British investors to invest in the best possible way.
"Energy, renewable energy, shipbuilding, automobiles, light engineering, agro-processing, maritime economy, tourism, knowledge-based high-tech industries, ICT are all waiting for foreign investment," she said. "British investors can choose between one or the other."
Sheikh Hasina called upon the expatriate Bangladeshis to come to Bangladesh in partnership with British investors, saying, "You will get all the opportunities, and I will look into any obstacles."
The Prime Minister was addressing the inaugural function of Bangladesh Investment Summit 2021: Building Sustainable Growth Partnership and Road Show at Churchill Hall of Queen Elizabeth Center in London. She attended the ceremony virtually from her residence in London.
Also, pre-recorded video messages from Prince Charles and British Prime Minister Boris Johnson were broadcast on the show. British Minister of State for Trade Policy Penny Mordaunt also spoke at the event. Sheikh Hasina also proposed a single economic zone where companies from a particular country could invest. She added that UK investors could take such a territory for themselves.
About 100 economic zones and 28 high-tech parks are being prepared for foreign and domestic investment. She said the focus is on population benefits and ensuring that investors get skilled human resources at competitive prices. The Prime Minister further said, "I would like to assure you that our government agencies, including the Bangladesh Securities and Exchange Commission and the Bangladesh Investment Development Authority, will do their utmost to ensure a conducive business environment for you."
She said her government would give British investors ample opportunity for the best possible return on investment. She also mentioned that several major business organizations are working successfully in Bangladesh.
"We are investing heavily in infrastructure development, including energy and power and rail communications," she said. In this context, she said, the government is constructing the Padma Bridge with railways connecting the neglected south with other parts of the country. "Bangladesh is entering the metro-rail era very soon."