Finance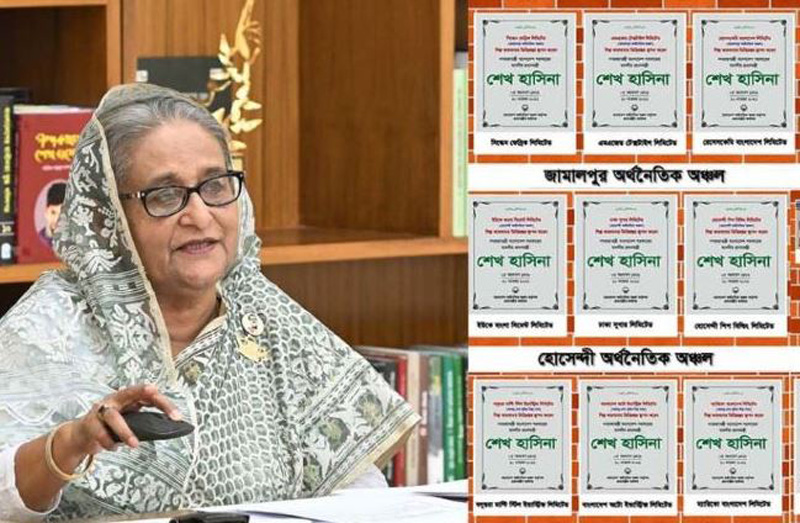 PID Bangladesh
PM Sheikh Hasina unveils 50 new factories
Dhaka, 20 November 2022 : Prime Minister Sheikh Hasina inaugurated 50 industrial units, projects and establishments in Economic Zones (EZ) across the country.
She virtually inaugurated industrial establishments in EZs on the occasion of the country's Golden Jubilee of Independence and the birth centenary of Father of the Nation Bangabandhu Sheikh Mujibur Rahman from Ganabhaban on Sunday morning.
Among the 50 industrial establishments, four factories have been opened in Chittagong's Bangabandhu Sheikh Mujib Shilpa Nagar (BSMSN) and eight factories in various privately run EZs. These industrial units have already invested more than USD 967.73 million and will invest approximately USD 331.27 million more.
The Prime Minister laid the foundation stones of 29 industrial units in various EZs, which have so far invested $610 million and are in the process of investing another $1,922.39 million. Administrative buildings of BSMSN, Jamalpur Economic Zone, Srihatt EZ and Sabrang Tourism Park were inaugurated.
She formally inaugurated the 20-km Sheikh Hasina Sarani, 230-kVA gridline and substation at BSMSN and laid the foundation stone of a water treatment plant with a capacity of 50 million liters per day (MLD).
Macdonald Steel Industries Limited, one of these, manufactures prefabricated structural steel, which is used in steel bridges and steel high-rise buildings, factories and power plants.
Nippon and Macdonald Steel Industries Ltd. manufacture MS plates from imported steel, purlins, slitting sheets and coils. Asian Paints Bangladesh Limited, which manufactures paints and related products, emulsions, has invested $34 million in the economic zone. Samuda Construction Ltd., a PHC pile manufacturer, is constructing its factory on a 4-acre plot of land with an investment of $8.2 million. The Japanese Economic Zone is likely to be inaugurated on December 6.
Sheikh Yusuf Haroon, Executive Chairman of Bangladesh Economic Zone Authority (BEZA) delivered a welcome speech from BSMSN side in Chittagong. A video documentary on the development activities of Bezar was screened on the occasion.