Finance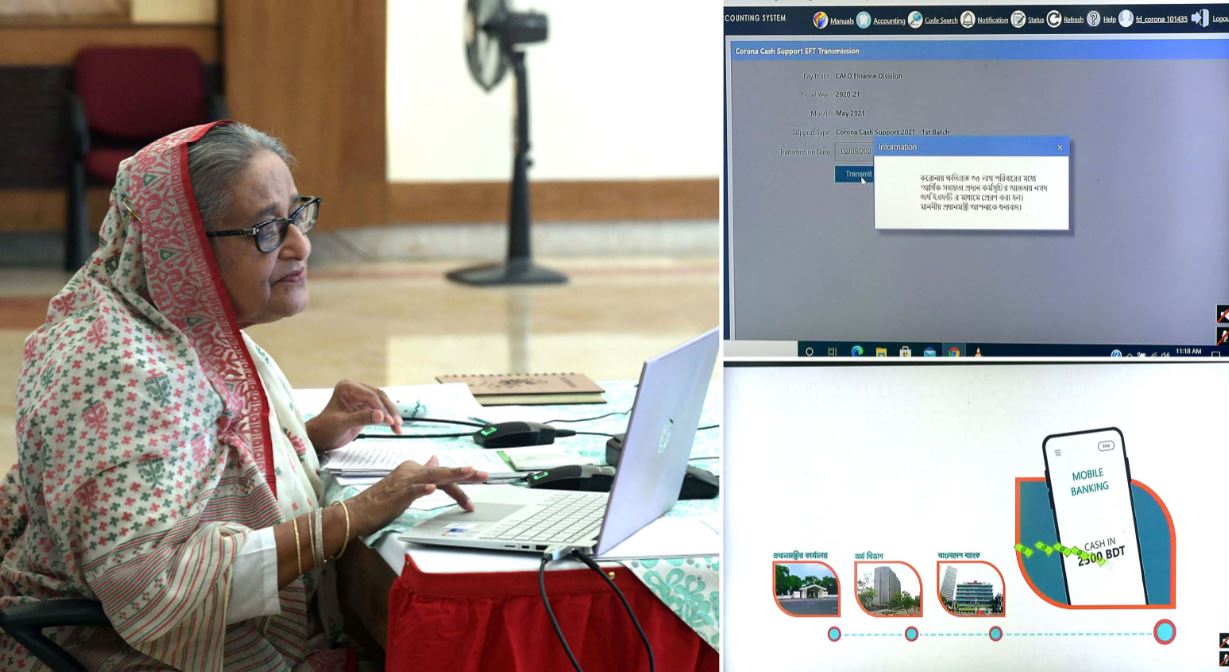 PID
PM starts giving financial aid via mobile phone service
Dhaka, May 2, 2021: Prime Minister Sheikh Hasina has launched the second phase of distribution of cash assistance to 3.7 million families severely affected by the second wave of coronavirus epidemic in the country through mobile phone service.
The Prime Minister virtually attended the event via video conference from Ganobhaban on Sunday. District administrations of Chittagong, Bhola and Joypurhat districts were also present on the occasion.
Each family is receiving Rs 2,500 as Eid gift from the Prime Minister for this epidemic, for which a total of Rs 912.50 crore has been allocated.
Addressing the function as the chief guest, the Prime Minister said the Awami League founded by Father of the Nation Bangabandhu Sheikh Mujibur Rahman has always stood by the people of the country. Whether it is in power or in opposition.
"We always think about how to stand by people, to support people," he said. The Awami League is following in his footsteps. '
The Prime Minister and the Awami League President said, "The Awami League has always stood by the suffering people. In addition to all kinds of assistance from the government in the coronavirus situation, we are on the side of the people as a party.
He said, 'Farmers in Corona had problems in harvesting paddy. As soon as I said that Awami League, Chhatra League, Juba League, Swechchhasebak League, Krishak League have cut the paddy of the people. In this way, the Awami League stands by the people in all calamities and misfortunes. '
Today, besides providing cash assistance to 36.5 lakh families through mobile banking, the relief and rehabilitation program of the Ministry of Disaster Management and Relief of the government is continuing. As a union in 64 districts, some money has been given to the deputy commissioners, so that they can spend it in any place of urgent need and stand by the distressed people. 10 crore has been provided in favor of Journalist Welfare Trust. Grants have also been given to artists, artisans and mosques and madrasas, the Prime Minister said.
He appealed to all, including the rich people of the society, to stand by the needy along with the grants of his government.
He reiterated his call on the people to continue the vaccination program against corona as well as to follow the hygiene rules including wearing masks when going out and avoiding crowds.
On the same day, the Prime Minister started distributing cash at the rate of Tk.