Finance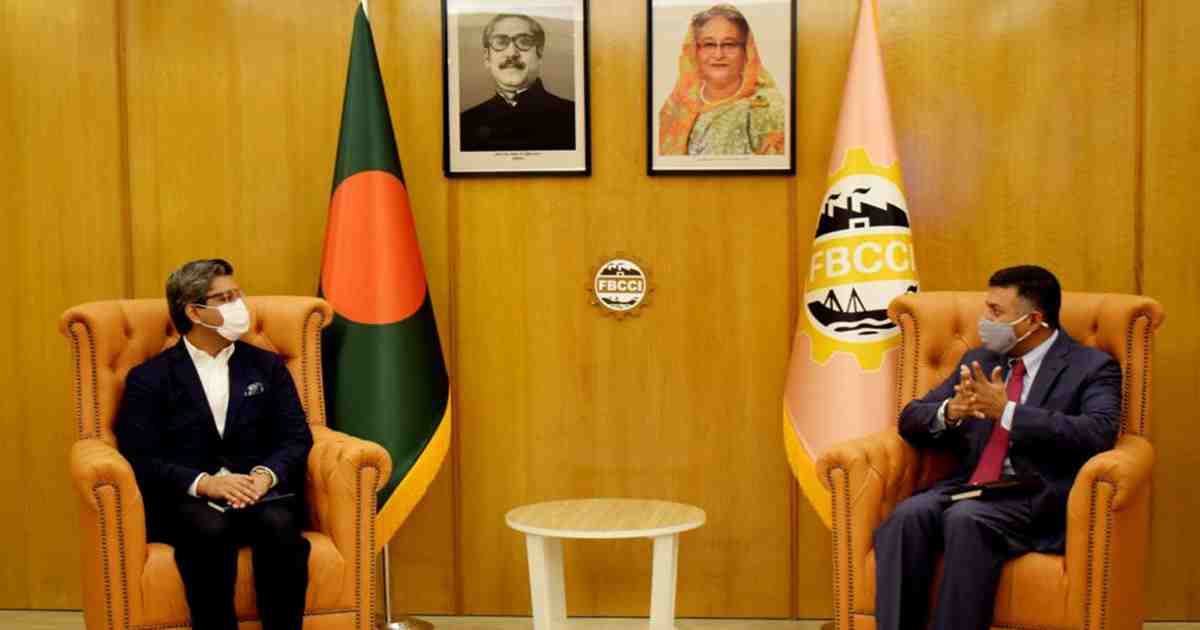 Amirul Momenin
Possible to expand India-Bangladesh relationship
Sheikh Fazle Fahim, president of the Federation of Bangladesh Chambers of Commerce and Industry (FBCCI), has said that it is possible to further strengthen bilateral trade relations by working together with India.
The FBCCI president told Vikram Kumar Doraiswamy, India's new high commissioner to Dhaka, during a visit to the renovated FBCCI icon in the capital's Motijheel on Saturday (October 24th).
The FBCCI President said that no other country has such an inseparable relationship of tradition and humanity as our two countries. We will work intensively to address trade-related issues. Which will set an example of implementing the vision in the complementary cooperation of our human heritage and our leadership. He also promised to work for the benefit of both Bangladesh and India through exports, joint ventures, identification of value chains in various sectors.
He informed the High Commissioner about FBCCI Impact 4.0. "Many Indian organizations can work in institutional partnerships with the FBCCI on our Impact 4.0 initiative," he said.
Impact 4.0 includes FBCCI ADR Center, Tech Center, Skill Lab, FBCCI Institute, FBCCI University, Economic and Applied Research Center, Multipurpose Workshop / Seminar / Skills Auditorium and Country Base Facilities, roadmap for implementation of SDG 2030 and Vision 2041 etc.
During his visit to FBCCI Icon, High Commissioner Vikram Doraiswamy said that one of the ways to achieve the desired potential of Bangladesh and India is to export Bangladeshi export equipment, automobiles, motorbike parts manufacturing, quantum computing, quantum internet, startup ecosystem production, cybersecurity, cybersecurity, cybersecurity. Joint venture. As well as giving importance to other issues.
He said Bangladesh has achieved unprecedented success in various areas including food adequacy, vaccine production, resource generation. Noting that major political issues between the two countries have been resolved, he said, "We can move forward with greater partnership in economic cooperation to further strengthen relations between the two countries."
Besides, Vikram Doraiswamy highlighted India's cooperation for Bangladesh in the fields of garments, agriculture, business, API, pharmaceuticals, automobiles, eco-friendly public transport, etc. He also mentioned the direct connection of waterways and railways to facilitate trade between Bangladesh and India.