Finance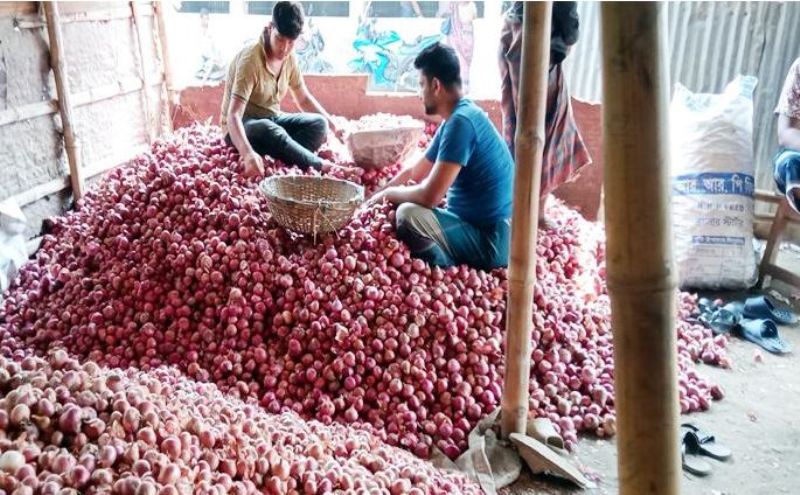 Collected
Price of onion reduced by Tk 500 following one announcement
Dhaka, May 20: The highest price of onion was Tk 2800-2900 in the market of Pabna on Friday. Farmers started dreaming of making some profit at such a price. But the hope of the farmers died a premature death. Because the price of onion has decreased by an average of Tk 500 taka per maund within a day.
On Saturday (May 20), the country's largest onion market, Bangram, sold the best quality onion at the price of Tk 2200 to Tk 2400. But cracked onion is being sold at a lower price. Farmers say that the price has started to fall after the Commerce Minister announced the import of onions.
On Saturday, Pabna's Bangram market was full of onions. But the demand is less than the supply in the market. Traders are not keen to buy onions at high prices. On Friday, one of the biggest onion markets in Pabna, Chinakhara, sold onions for Tk 2700; Onion of that quality was sold at Tk 2200-2300 on Saturday. And onions worth 2800-2900 taka are being sold at 2400 taka.
Many farmers say that they could not have imagined that the price would drop so much in one night. It has been found that last year in the first week of May, the price of good onion was Tk 1400-1500. In the second week, the price is reduced to 1100-1200 taka.
According to the information provided by the farmers, their cost per maund last year was more than Tk 1000. If onion is kept at home, it will lose weight and rot. So they could not profit last year. Although the price is higher this year, the yield is half of last year. As such, their production cost has doubled. They were hoping to make a profit by raising the prices after a few days of the season. But the Commerce Minister's announcement of imports dashed their hopes.
Sagar Hossain, a farmer of Bamondanga village of Santhia upazila, said that Commerce Minister Tipu Munshi told reporters on Friday morning that onion prices will be imported if they do not decrease within two days. In one of his announcements, the price of onion has gone up.
Jamal Uddin, deputy director of the Directorate of Agricultural Extension Pabna, said that the cost of onion production for farmers is over Tk 35-40 per kg. But during the season farmers sell at 20-25 taka per kg. They are definitely affected by this. He also said, then the farmer has no choice but to sell at that price. Because they are burdened with debt. Farmers are benefiting from the price increase this year. The government is trying to balance the price by importing. So that both buyers and consumers are better. Farmers will not be affected.