Finance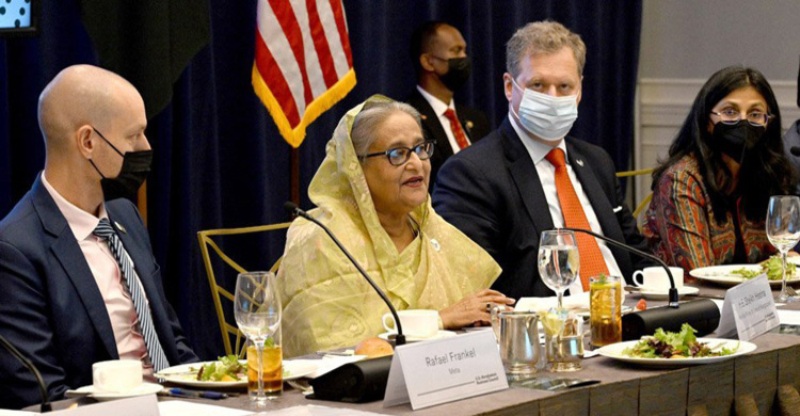 PID
Prime Minister calls for American investment in Bangladesh
Dhaka, September 23: Prime Minister Sheikh Hasina has urged US investors to invest in various sectors, including renewable energy, shipbuilding, automobiles and pharmaceuticals, in Bangladesh. She also said that Bangladesh is pleased to offer a special economic zone for American businesses.
Sheikh Hasina said, "I would like to invite US investors to invest in Bangladesh in renewable energy, shipbuilding, automobiles, pharmaceuticals, heavy machinery, chemical fertilizers, ICT, marine resources, shipbuilding, medical equipment and manufacturing of Covid-19 vaccines."
She said these while addressing a high-level policy roundtable organized by the Council of Business Leaders of Bangladesh and the United States at the hotel where the visiting Prime Minister is staying in New York on Thursday local time.
The Prime Minister said Bangladesh has a liberal investment policy, including foreign investment protection, tax rebates, remittance of royalty, unrestricted exit policy and full exit of dividends and capital carryover facility. Pointing out that 100 'Special Economic Zones' (SEZs) and several hi-tech parks have been set up in various parts of Bangladesh, the Prime Minister said the country has more than 6 lakh free-lancing IT professionals, hence, Bangladesh is the right destination for IT investment.
She said skilled human resource at competitive wages is an added advantage in Bangladesh. "Even if necessary, we would be happy to propose a dedicated 'Special Economic Zone' for US investors."
Hasina further said that Bangladesh is in the middle of a combined market of 4 billion people with India, China and Southeast Asia.
Pointing out that technology and innovation are the keys to rapid economic growth, the prime minister said that Bangladesh has become the second largest exporter of ready-made garments, the third largest producer of vegetables, the fourth largest producer of rice and the fifth largest producer of inland fish in the world.
Noting that Bangladesh is set to graduate from LDC status by 2026, she said they need adequate support to increase its global competitiveness and export basket. "I am confident that the United States can be our strongest partner in this challenging endeavor."