Finance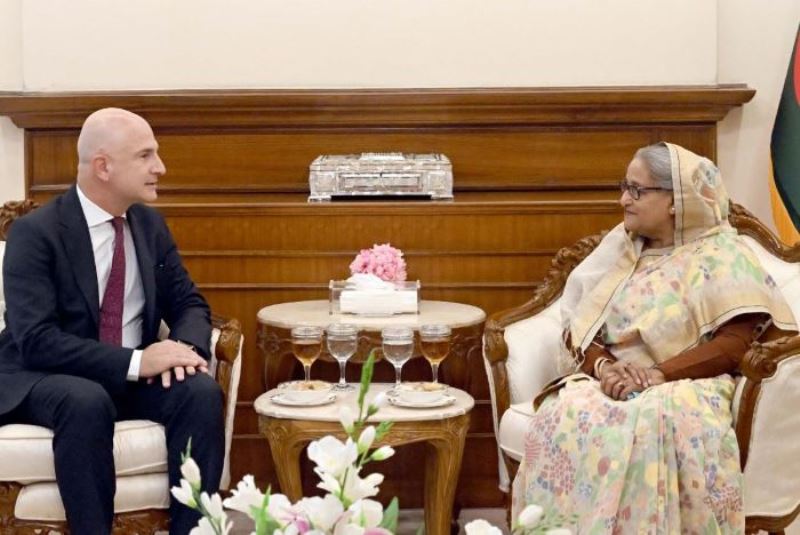 Photo: PID
Prime Minister calls for more investment from Turkey in Bangladesh
Dhaka, December 28: Prime Minister Sheikh Hasina expects greater investment from Turkey in Bangladesh along with cooperation in sustainable repatriation of Rohingyas.
When outgoing Turkish ambassador Mustafa Osman Turan paid a courtesy call on the Prime Minister at her office on Tuesday, the PM said, "I call for more investment in Bangladesh on a larger scale."
The Prime Minister requested the Turkish government to put pressure on Myanmar to take back the citizens who have taken refuge in Bangladesh.
The ambassador of Turkey said that due to extensive infrastructure development in Bangladesh, especially the establishment of economic zones, the businessmen of his country are showing more investment interest.
He said two Turkish companies have invested USD 850 million in the economic zone so far this year. The ambassador of Turkey also assured all kinds of cooperation in the repatriation of Rohingyas.
The Prime Minister emphasized the need to hold the next Bangladesh-Turkey Joint Economic Group meeting soon, where cooperation in trade, business and other issues will be discussed. The previous meeting of the commission was held in Istanbul in 2019.
She said that Bangladesh has been promoted from a less developed country to a developing country to face the challenges.
The Prime Minister sought cooperation from Turkey in defense as well as socio-economic aspects. The Turkish ambassador expressed his country's interest in increasing cooperation in the defense sector.
Mustafa Osman Turan expressed his country's interest in setting up a super special hospital in Bangladesh and sought a suitable location for it. In response, the Prime Minister proposed to give land in Purbachale or next to the Padma Bridge.
The Turkish Ambassador expressed his country's interest in adopting the concept of Smart Bangladesh and working together to build Smart Bangladesh. He expressed hope that Sheikh Hasina will come to power in the next election.
The Prime Minister said that the founder of modern Turkey, Mustafa Kemal Atatürk, is very popular in Bangladesh and Kemal is a household name.
She said that his younger brother Sheikh Kamal's name was inspired by him (Kamal Atatürk).