Finance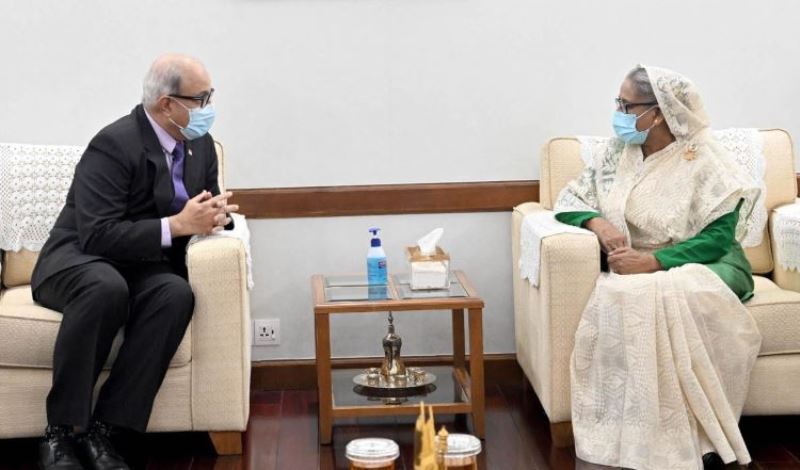 Photo: PID
Prime Minister calls on Singapore entrepreneurs to invest more in Bangladesh
Own Correspondent, Dhaka, Nov 18: Prime Minister Sheikh Hasina has urged Singaporean entrepreneurs to invest more in Bangladesh's economic zone. On the other hand, Singapore has expressed interest in working together in the sustainable and renewable energy sector as well as exploring new areas of cooperation.
The Prime Minister said, "Bangladesh is establishing 100 Special Economic Zones across the country. I invite Singaporean entrepreneurs to invest in these economic zones."
Singapore's Transport Minister and Trade Relations Minister-in-Charge S Eswaran said this during a courtesy call on the Prime Minister at Ganabhaban on Thursday.
Prime Minister's Press Secretary Ihsanul Karim briefed the journalists after the meeting. The Prime Minister laid emphasis on setting up agro-processing industries in economic zones.
He said Bangladesh has the longest beach in the world and a new international airport is being built at Cox's Bazar with refueling facilities.
S. Ishwaran said that both countries have the potential for cooperation in the tourism sector. In the meeting, they also discussed the 50th anniversary of the establishment of diplomatic relations between the two countries.
He said Singapore and Bangladesh can work together to form a joint working group to explore new areas of cooperation and explore potential sectors.
Ishwaran praised the development of Bangladesh and said, "Bangladesh has become strong under the leadership of Prime Minister Sheikh Hasina."
Sheikh Hasina also praised the development of Singapore.