Finance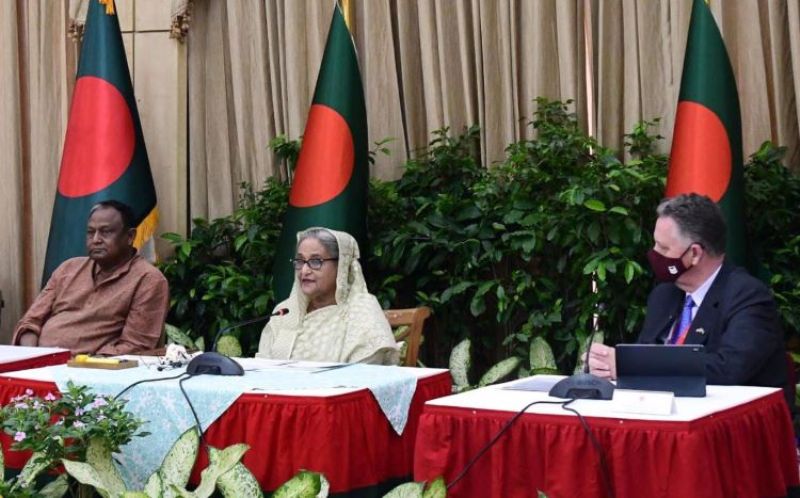 Photo: PID
Prime Minister calls upon US businessmen to invest in Bangladesh
Own Correspondent, Dhaka, May 11: Prime Minister Sheikh Hasina has called upon US businessmen to invest in an investment-friendly environment in Bangladesh, assuring them of the best possible policy framework.
She said, "I would now like to assure you of the best possible policy framework and strong prospects for facilitating our business and investment environment."
The Prime Minister made the call during a meeting with the Executive Business Delegation of the US-Bangladesh Business Council visiting her official residence Ganobhaban for the first time.
Sheikh Hasina said she believes US companies will take advantage of this and invest more in potential sectors like power and energy, ICT, infrastructure, light engineering products, mobile phone and electronic products, automobiles, agricultural processing, pharmaceuticals, ceramics.
She said, "I am sure that you will be able to understand the favourable environment and you will be able to feel the confidence of potential investors in Bangladesh."
She noted that Bangladesh is now recognized for its state-of-the-art manufacturing plants in RMG, leather, plastics, jute, ICT, agricultural processing and many more.
The Prime Minister said, "Now is our 'time' and please create the 'time' to take advantage of investment opportunities in our favorable environment."
She believes that the US-Bangladesh Energy Task Force, launched in September 2021, will help advance energy cooperation between the two countries' stakeholders.
The PM also mentioned that the proposed US-Bangladesh Digital Economy Task Force would contribute to further strengthening the cooperation between the companies of both the countries to ensure sustainable development.
Noting that Bangladesh-US friendship is based on common values and shared interests, Sheikh Hasina said, "It is reflected in our expanded overall business relationship."
"Our trade relations can be further strengthened through duty-free access to the US market and other trade facilities," said PM Hasina, adding that "Bangladesh is ready to start negotiations on a free trade agreement with the United States at an appropriate time."