Finance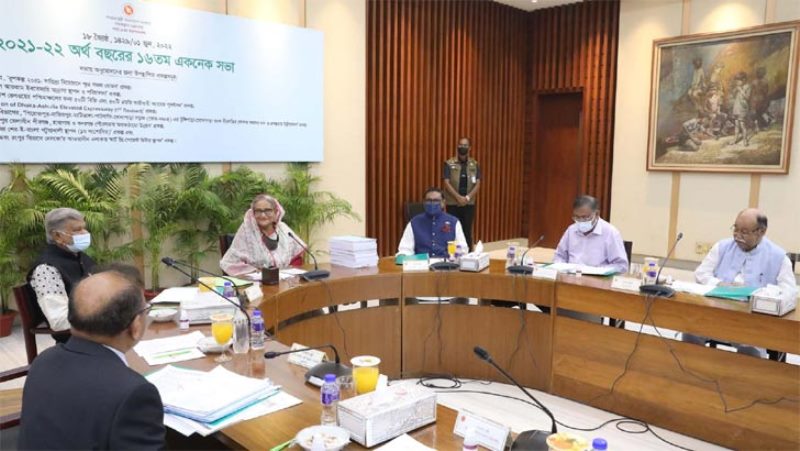 Photo: PID
Prime Minister emphasizes on reining in inflation
Dhaka, August 30: Prime Minister Sheikh Hasina has given various directives to rein in inflation in the country through various efforts and government policies along with curbing unnecessary expenditure and wastage of government funds.
The Prime Minister gave this directive while presiding over the meeting of the Executive Committee of the National Economic Council (ECNEC) at the NEC conference room in the capital's Sherebangla Nagar on Tuesday. She presided over the meeting as its Chairperson.
Briefing the media after the meeting, Planning Minister MA Mannan said that the Prime Minister has once again emphasized on bringing down inflation further through various measures and policies of the government.
The Planning Minister said, "However, it is not possible to reduce inflation by force or overnight. We have brought inflation down in the last four months and I think the inflation rate will come down further in the outgoing months as well."
Mannan said the Prime Minister also emphasized the need to curb wastage of government funds and unnecessary expenditure. Quoting the Prime Minister's statement, he said, "However, necessary spending must continue, otherwise the economy will not move forward."
The Prime Minister directed all the concerned executive agencies to complete the projects which are nearing completion or have witnessed up to 90 percent implementation rate on high priority.
Referring to Bangladesh's accession to the New Development Bank (NDB), a BRICS initiative, Sheikh Hasina said the NDB has opened a new window for Bangladesh as the country now has access to other lenders - the World Bank, Asian Development Bank, AIIB and ISDB - as well as from this bank. Will be able to take loans.
"This is a sign of our increased capacity and now we will be able to take loans from which we will get better results through negotiations," she said.
The Planning Minister said that ECNEC thanked the Prime Minister for his successful participation in the 15th BRICS Summit in South Africa.