Finance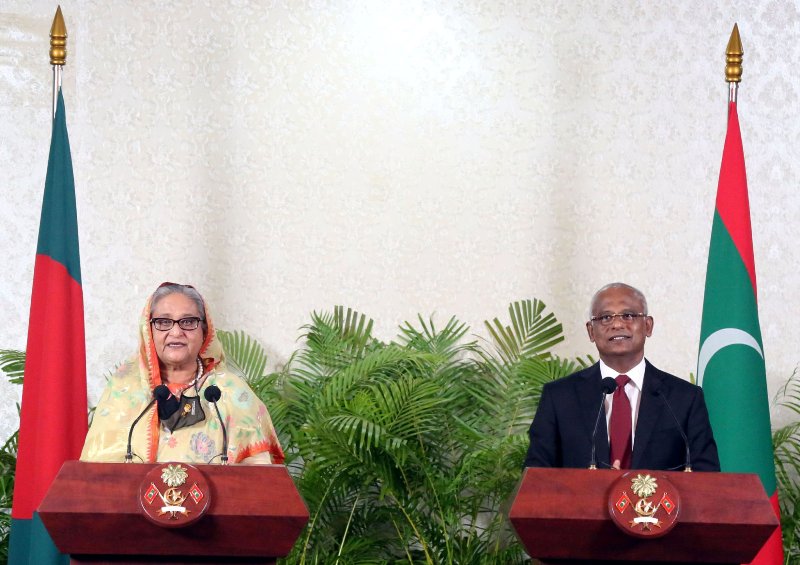 PID
Prime Minister emphasizes the need for PTA with Maldives
Own representative, Dhaka, December 24: Prime Minister Sheikh Hasina has said that she had fruitful bilateral talks with Maldivian President Ibrahim Mohammed Solih on developing bilateral trade, investment and connectivity.
"I have had detailed discussions with President Salih on bilateral trade, investment and connectivity development," she said in a joint statement after witnessing bilateral talks, the handing over of 13 military vehicles to the Maldivian government and the signing of several bilateral agreements at the president's office in the Maldivian capital, Male.
During the dialogue, the two leaders agreed to strengthen bilateral cooperation between the two countries, particularly in the areas of health, education, human resource development, youth and sports, fisheries and agriculture, and to work together to address the challenges of climate change and speedy repatriation of displaced Rohingya to Myanmar.
During her bilateral talks with President Solih, Sheikh Hasina reiterated the need for a Preferential Trade Agreement (PTA) between the two countries and a bilateral investment protection mechanism to facilitate mutual investment.
Commenting on the outcome of the talks, she said, "I am pleased to announce that we have had a very fruitful discussion on the overall nature of our bilateral relations. We have reviewed the progress so far in our previous decisions and the results have been satisfactory."
The Prime Minister hoped that the media would play a positive role in further strengthening the relations between the two countries. She said Bangladesh is looking forward to building a 'Golden Bangladesh' to fulfill the dream of Father of the Nation, Bangabandhu Sheikh Mujibur Rahman, by transforming it into a modern, prosperous and developed economy by 2041.
In view of the growing production capacity of Bangladesh, the Prime Minister offered to supply many quality products to the Maldives at competitive prices.
She said it was a matter of great satisfaction that Bangladesh had accepted Maldives' offer to recruit health professionals from Bangladesh. The Prime Minister added, "We will create opportunities for specialized postgraduate medical courses for Maldivian students."