Finance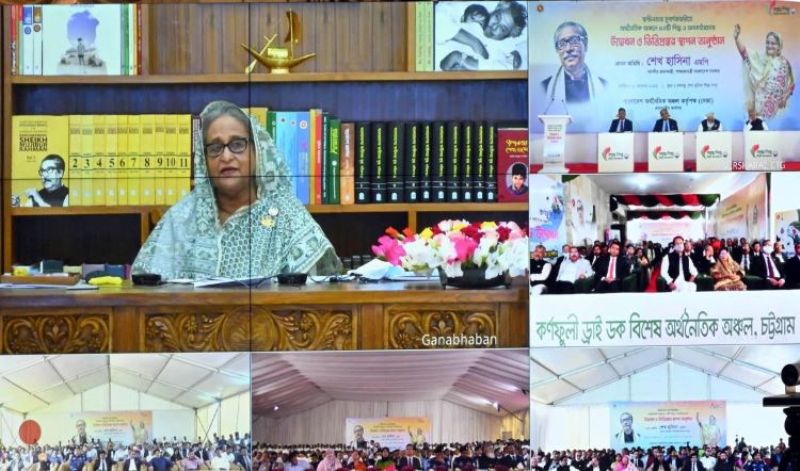 PID
Prime Minister Hasina emphasises on planned industrialisation to ensure economic prosperity
Dhaka, November 21: Prime Minister Sheikh Hasina emphasized the need for planned industrialization to protect arable land to ensure economic prosperity and urged youth and women to contribute to the sector.
She said, "No industrial establishments can be built here and there. Arable land and three-crop land cannot be harmed. We will bring economic prosperity by increasing production through industrialization."
Prime Minister Sheikh Hasina said this while inaugurating 50 industrial units, projects and facilities in Economic Zones (EZ) across the country on the occasion of the Golden Jubilee of Independence and the birth centenary of Father of the Nation Bangabandhu Sheikh Mujibur Rahman.
"Today I am very happy to inaugurate and lay the foundation stones of 50 industrial units and infrastructure despite the global economic slowdown due to the Russia-Ukraine war," she said, attending the ceremony virtually from Ganobhaban.
The Prime Minister said that the father of the nation gave Bangladesh the status of a less developed country while building a war-torn country and after Awami League came to power, he took steps to increase the quality and status of Bangladesh in the world.
She said, "We got the status of a developing country in 2021 because we have gone ahead with the right plan. We need to maintain it. That is why we need massive industrialization. We need to find new markets along with increasing agricultural and industrial production and increase the purchasing power of the people by improving their socio-economic status. It will be, so that its own market can be created. That is why the government has taken the initiative to establish 100 economic zones across the country and has built several EPZs since coming to power."
She recalled the establishment of the first Uttara EPZ in Nilphamari in North Bengal and said that his government has already fixed 97 places for EPZs across the country. There will be investment gradually. He mentioned that although the economic shock of Covid-19 has hit Bangladesh like the rest of the world, his government is trying to keep the economy moving by handling it.
"Then the drought, the Russia-Ukraine war and counter-sanctions have limited our purchasing power. Import prices and transportation costs have gone up. As a result, many countries are suffering from recession," she said.