Finance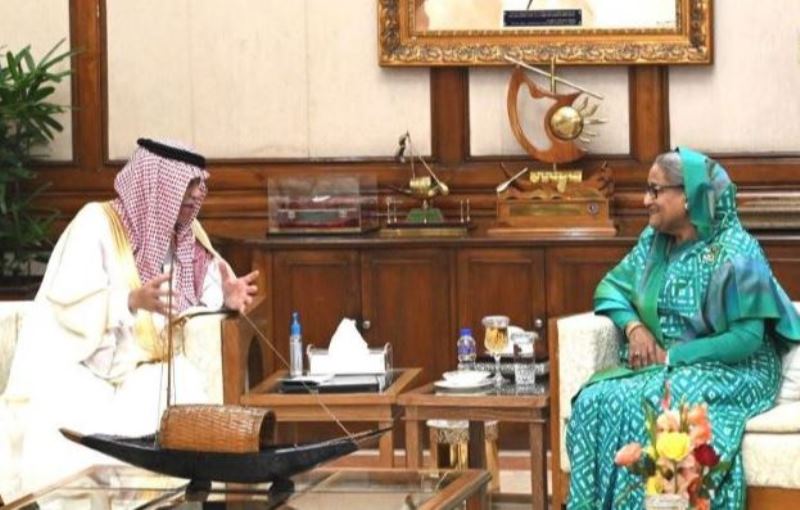 Photo: PID
Prime Minister offers land to Saudi in economic zone
Dhaka, March 11: Prime Minister Sheikh Hasina has offered land in the Special Economic Zone (SEZ) for Saudi Arabia and sought more investment from the oil-rich country in Bangladesh. She said, "We want more Saudi investment in Bangladesh."
The Prime Minister made the request on Friday evening while meeting a nine-member Saudi delegation led by visiting Saudi Minister of Commerce Dr. Majid bin Abdullah Al-Qusabi at his official residence, Gana Bhaban.
After the meeting, Prime Minister's Press Secretary Ihsanul Karim briefed the journalists. The Prime Minister urged Saudi Arabia to set up an oil refinery in Bangladesh to refine all types of oil including crude oil. They discussed increasing trade and commerce between the two countries for mutual benefit.
The Saudi minister said that his country's major investors are interested in investing in Bangladesh, especially in the renewable energy sector. In this context, he urged the Prime Minister to ease the investment process in Bangladesh by resolving bureaucratic delays.
In response, the Prime Minister said that she has already asked the concerned officials to take necessary measures to make the bureaucratic process easier and faster. Pointing out that there are huge markets in the neighboring countries, she said, her government is working to make the transportation of goods easier and faster by establishing all kinds of connectivity including waterways.
She also said that they are dredging the river to increase the navigability of the waterway.
The Prime Minister said that her government wants to establish an Arabic language institute to facilitate Bangladeshi workers to know the Arabic language well before going to Saudi Arabia.
She said her country is eagerly waiting to welcome the Saudi crown prince.
Saudi minister invites PM to perform Umrah. He praised the remarkable progress and development of Bangladesh under the dynamic leadership of Prime Minister Sheikh Hasina. The Prime Minister also praised the rapid development of Saudi Arabia.
While talking about the Rohingya crisis, the Saudi Minister called Sheikh Hasina as 'Mother of Humanity'. Pointing out that there is a huge potential for Saudi investment in Bangladesh, he said, we can exchange our experience in the field of trade and commerce with Bangladesh.
He said that 650,000 Bangladeshi job seekers have gone to Saudi Arabia in the last 10 months.