Finance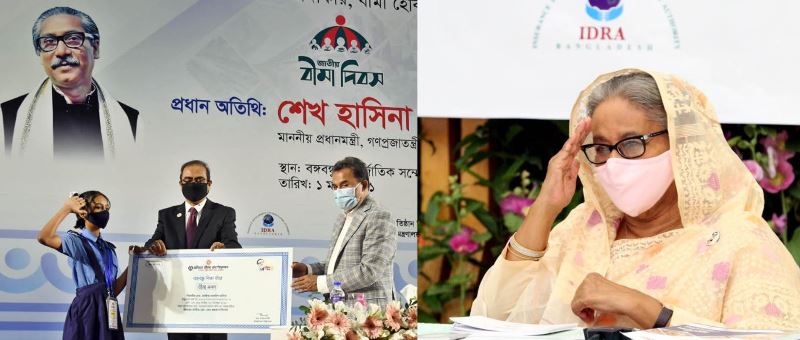 PID
Prime Minister suggests the use of modern technology in insurance
Dhaka, March 1: Prime Minister Sheikh Hasina has suggested the use of modern technology to pay insurance premiums and assess losses. The Prime Minister was speaking at the inaugural function of 'National Insurance Day-2021' at Bangabandhu International Conference Center in the capital on Monday (March 1). She joined the programme via video conference from Ganobhaban.
The Prime Minister said, "We want people to be more confident about insurance so that they can enjoy the benefits. That is why we have modernized the insurance system and enacted all the laws."
She added, "Insurance should ensure maximum benefits to the customers. Care should be taken to meet the insurance claims. Care should be taken to get the customer's debts easily. Also, care should be taken so that no one can claim insurance by showing artificial loss."
Sheikh Hasina said, "We have this problem in our country. Many people want to abuse rather than use a facility. We have to be careful about this. Insurance is a great service. Care should be taken not to use this service in any other way. Of course, it has decreased a lot now."
She added, "There is a lack of awareness about the benefits of insurance. Effective steps need to be taken to raise awareness. The Father of the Nation worked to create this awareness. On March 1, 1961, Bangabandhu Sheikh Mujibur Rahman joined Alpha Insurance Company as Regional Head. So it's not just insurance, it's politically important. National Insurance Day is celebrated to commemorate the day. Thank you to those who have taken this initiative."
Sheikh Hasina said, "Bangabandhu Education Insurance has been introduced. You can make a policy with Tk 85 per annum. In this case, if the newly married couple insures their children, they will not face any problem till the end of education. Insurance opportunities are also available for expatriates who can save lives."
The Prime Minister said, "Bangabandhu has worked to rebuild the war-torn country. He started from scratch. He has helped in all areas including economic development. He has done all the work to build a state. This is the path of development. He was killed. Not only him but his whole family. Not only the family but the Bengali nation has been affected. The nation has lost its potential."