Finance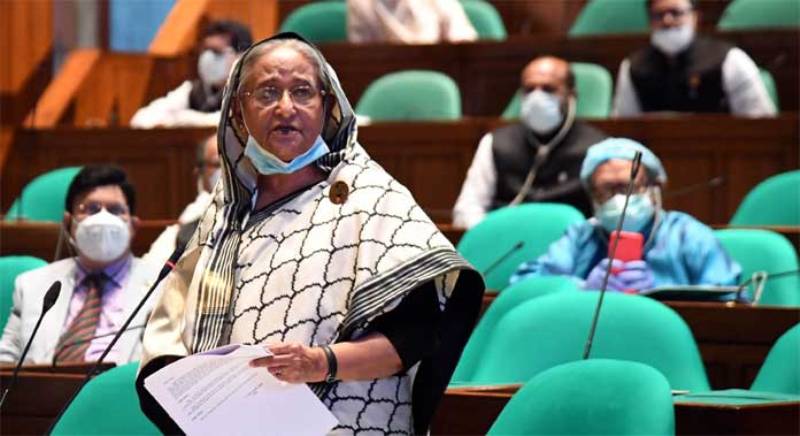 Photo: Collected
Process of collecting additional $1,000 million budget support for emergency response has started: PM
Own Correspondent, Dhaka, June 9: Prime Minister Sheikh Hasina has said her government has begun the process of mobilizing an additional USD 1,000 million in budget support as part of a plan to address future global emergencies, including the global economic crisis caused by the Russia-Ukraine war.
The Prime Minister and Leader of the House Sheikh Hasina said this in response to a written question from Md. Mozaffar Hossain, Member of Parliament for Jamalpur-5 constituency, during the question and answer session scheduled for her in Parliament on Wednesday. The Q&A session was raised on the table. Speaker Dr. Shirin Sharmin Chowdhury was presiding over the session.
The Prime Minister said the budget support will be spent on providing incentives to industrial units, commercial establishments, small and medium enterprises and social security. Work is also underway to receive USD 500 million in budget support for the 2022-2023 fiscal year as part of the Covid-19 economic crisis response programme.
Sheikh Hasina said the present government is making relentless efforts to implement the UN Sustainable Development Goals with various plans to create well-planned socio-economic development and employment for the people of the country. As a result of the government's development plan, far-reaching activities and constructive steps, Bangladesh has achieved success in all fields in the last 13 years.
Reiterating her confidence, the Prime Minister said, "We firmly believe that Bangladesh will become a developed country by 2041, inshallah, by continuing this trend of success and sustainable development."
In response to a question from Md. Shahiduzzaman Sarkar of Naogaon-2 constituency, another member of Awami League, Sheikh Hasina said so far 35 lakh 52 thousand 340 homeless people have been rehabilitated across the country.
She said that all the landless and homeless families of the country will be rehabilitated in phases through construction of houses and house building activities for the homeless will continue across the country. Landless-homeless-rootless people are being rehabilitated by collecting land and rehabilitating it even where suitable khas land is not available.
The Prime Minister said her government is committed to eliminating the term "no place to stay" forever. She said Bangladesh as a whole is being enriched by transforming the settler families and their future generations into human resources.