Finance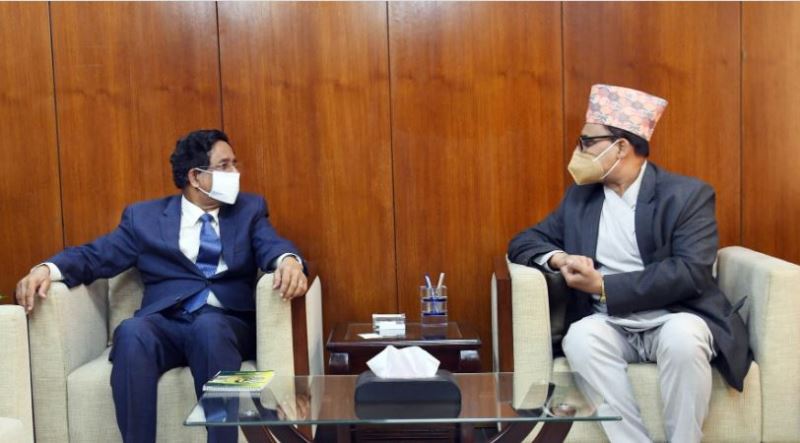 PID
PTA agreement with Nepal within two months
Dhaka, February 3: Nepal's Preferential Trade Agreement (PTA) will be signed with Bangladesh in the next two months, said Dr. Banshidhar Mishra, the country's ambassador to Dhaka. The ambassador was responding to a question from reporters after a meeting with Agriculture Minister Mohammad Abdur Razzak at the Secretariat on Tuesday (February 2).
Asked when the PTA will be signed, the ambassador said, "Preferential trade agreements will be signed as soon as possible. We have come a long way. The Bangladesh and Nepal Trade Negotiation Committees will meet at the Additional Secretary level this February. Then there will be a meeting at the level of Commerce Secretary. Various issues of PTA will be finalized there. We hope everything will be final in the next two months. The agreement will further strengthen the relationship between the two countries."
"Hopefully, we will be able to reach an agreement next March," he added. "We are discussing about 20 products."
Earlier, Nepal signed a PTA agreement with Bhutan. The country is going to sign this agreement with Bangladesh as the second country.
In this regard, Agriculture Minister Dr. Md. Abdur Razzak said, "We now import cardamom from India in agro-based industries, such as spice products. If we can bring it directly from Nepal, we will get it at a lower price. Besides, tomatoes are in our country for four or five months, without winter, there are no tomatoes. As a result, if you want to eat tomatoes in the off-season, the price is much higher. But in Nepal, tomatoes are grown for a long time, even in summer. We can bring it if we want. The PTA includes cheap pharmaceuticals, ceramics, garments and other products that we get from India."
"Rice is as important in Nepal as it is in our country," he added. "Because their main food is rice, they think that Bangladesh is far ahead in rice production and has produced many good varieties of rice through research. The productivity of those paddy is very good. They think these varieties can also be produced in Nepal."
Nepal wants to sign a Memorandum of Understanding (MoU) with Bangladesh to take improved varieties of rice from Bangladesh and to cooperate in agriculture, the agriculture ministry said, citing the country's ambassador.