Finance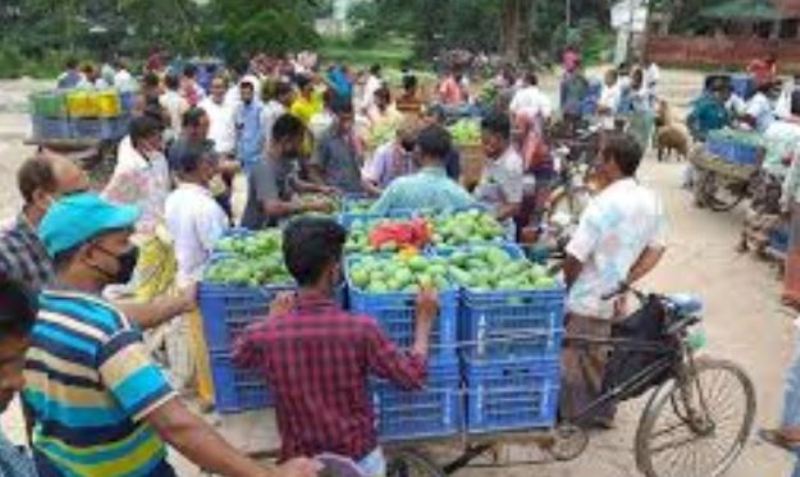 Collected
Rajshahi market experiences mango shortage
Dhaka, May 14: This time there is no expected mango in Rajshahi market. Due to the hostile weather, most of the buds and cocoons of mango fell early in the season. Many farmers and traders of Rajshahi are disappointed in this. On Saturday, several areas including Charghat, Baneshwar and Puthia in Rajshahi were visited.
Haji Mohammad Ataur Rahman was planting mangoes in a garden in Namaz village area of ​​Puthia upazila. The mango cultivator of Salua area of ​​Charghat police station has about 2000 different species of mango trees. Last time I got about 12 thousand maund of mangoes. It did not sell well at the time due to the pandemic, but expected double the profit this season.
However his hopes have been dashed. This time he got only 6 thousand maund of mangoes.
When asked, he said that due to bad weather, there is no mango at all this season. Even then, last time I sold a mango cocoon for Tk 250 to Tk 300. But this time I have sold this mango for Tk 1,000 due to the absence of Covid-19 pandemic.
He said, we sell these mangoes in different companies including Karwan Bazar in Dhaka. I started planting mangoes on May 13 after receiving instructions from the deputy commissioner.
Mozammel Haque, a mango farmer from the same area, said that this time there is no mango tree at all. The trees are completely bald. This time there is only mango to eat at home.
Last time I sold one carat mango in pandemic for Tk 250 to Tk 400. I can't do that this time. Out of my 200 trees, only a handful of trees have mangoes to eat at home. He also said that this time the situation is very bad.
According to Rajshahi Agricultural Extension sources, mango is being cultivated in 18,000 hectares of land in Rajshahi this season. The yield of mango is 12 tons per hectare. In this case 2 lakh 16 thousand tons of mango is produced in 18 thousand hectares of land. However, this time at the beginning of the season, due to hostile weather, many mango pods fall from the trees, there is a risk of low yield.
Director of Rajshahi Agriculture Extension Department Mozdar Hossain said mango yield was not good due to unfavorable weather. Mango buds and cocoons start falling from the tree at the beginning of the season. So the yield of mango is less.