Finance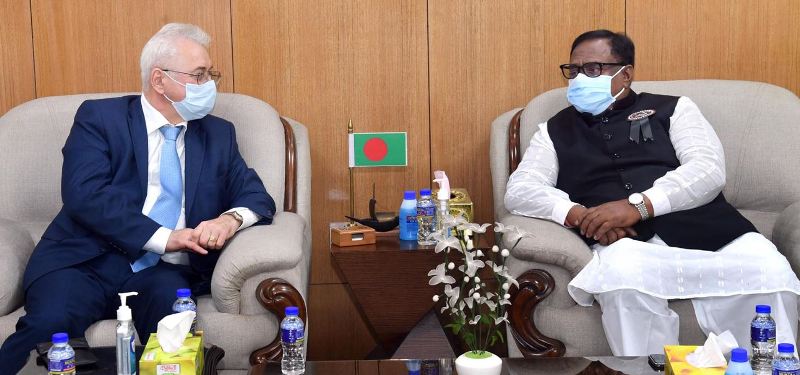 PID
Russia interested in investing in fruit processing, food preservation
Dhaka, August 25: Russia has expressed interest in investing in various fruit processing and food preservation in Bangladesh. Russia's Ambassador to Bangladesh Aleksandr Mantytsky stated the same during a courtesy call on Food Minister Sadhan Chandra Majumder at the Secretariat on Tuesday (August 24), according to a press release from the Ministry of Food.
During the meeting, they discussed various issues, including economic development of Bangladesh and expansion of bilateral trade and commerce.
The Russian Ambassador said that there is immense potential for trade and investment between Bangladesh and Russia. Russia is keen to take advantage of this opportunity to play a role in achieving food security in Bangladesh. During the visit, the Ambassador expressed interest in investing in various fruit processing and food storage facilities in Bangladesh.
"Russia's relationship with Bangladesh is excellent. This relationship is gradually expanding in various fields, including trade and investment. We gratefully remember Russia's cooperation in rebuilding the economy and infrastructure after Bangladesh's great War of Liberation and post-independence in the war-torn country," the Food Minister said.
"The present government under the leadership of Prime Minister Sheikh Hasina is working relentlessly for the betterment of the people of the country. As a result, Bangladesh is rapidly improving its socio-economic indicators. The government is working to ensure food security of the people as well as to build a sustainable food management," he added.
Food Secretary Moshammat Nazmanara Khanum, Director General of the Food Department Sheikh Mujibur Rahman, Chairman of the Food Safety Authority Abdul Qayyum Sarkar and Charge d'Affaires of the Russian Embassy in Dhaka Sergei Popov were present.