Finance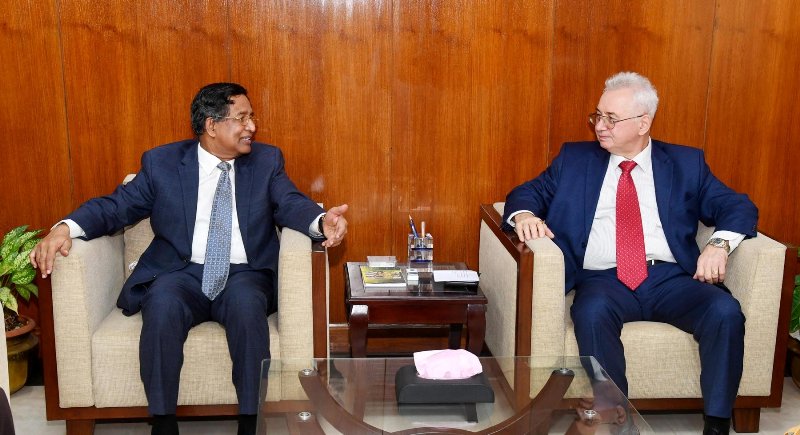 PID
Russia to import mangoes from Bangladesh
Dhaka, August 18: Russia wants to import mangoes from Bangladesh. Aleksandr Mantytsky, Russia's ambassador to Bangladesh, expressed interest during a meeting with Agriculture Minister Abdur Razzak at the Secretariat on Wednesday (August 18), the lawmaker told reporters.
"We have a lot of bilateral trade with Russia at the moment. The amount is much higher, more than two billion dollars. Russia is very important for the Ministry of Agriculture and Food," he said.
"The ambassador gave us a suggestion, he thinks there is a huge opportunity to export mangoes to Russia. He is a newcomer, the mangoes he has eaten in the last few days are very tasty. It has a huge market in Russia. Bangladesh can give importance to this, it should be worked on.
"In our country we do not produce much wheat. Our climate is not good for wheat production. But now the present generation consume a lot of food made of wheat. That is why we import wheat from Russia," he added.
The minister also mentioned the import of fertilisers from Russia.
"A new fertilizer DAPP, its use has increased a lot in Bangladesh. Talked about bringing it up. A memorandum of understanding will be signed with Russia, government-to-government. Can we bring DAPP from Russia at a good price or not. Earlier we used to use seven lakh tonnes of DAPP but now the demand has increased to 14 lakh tonnes. So here we have the opportunity to expand our trade with Russia," he said.
"We used to export potatoes there. Russia has imposed restrictions there because of a bacterium. We have requested him to export potatoes to Russia. He says they will take it seriously," he said.
"They are doing Rooppur project. They think that this project will have a huge impact on the economy of Bangladesh. Bangladesh's prestige will also increase at the international level," he said.
The Russian Ambassador said, "Mangoes are very popular in Russia. I have drawn the attention of the Hon'ble Minister for the export of mango to Russia, because Bangladeshi mangoes are very tasty."