Finance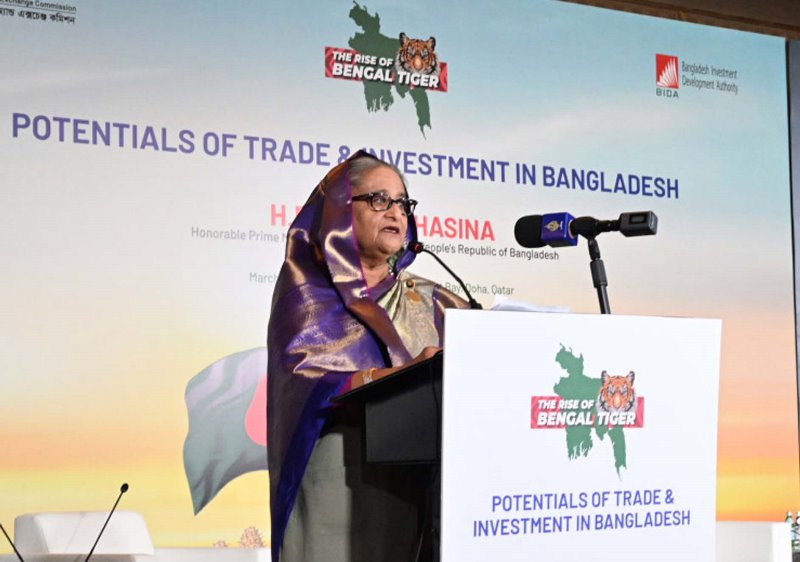 Photo: PID
Sheikh Hasina calls for Bangladesh-Qatar Business Forum's formation
Doha, March 7: Prime Minister Sheikh Hasina has called for the formation of a committee between the governments of Bangladesh and Qatar on trade and investment.
She said that by establishing a joint business forum, the private sectors of the two countries should be brought on a single platform for mutually beneficial economic partnership. We need to reposition our relationship on the basis of mutually beneficial economic partnership.
The Prime Minister said this while addressing the Investment Summit 2023 'The Rise of Bengal Tiger: Potentials of Trade and Investment in Bangladesh' held in Qatar's capital Doha on Monday. In this context, she invited a delegation of businessmen from Qatar to visit Bangladesh soon. She urged non-resident Bangladeshis living in Qatar to invest in the country and asked them to participate in nation-building efforts.
She advised Qatari businessmen to look into some of the thrust sectors in Bangladesh. She also said that the government has kept the infrastructure and logistics sectors open for investment.
Referring to Qatar's investment opportunities in the energy sector including renewable energy, Sheikh Hasina said Bangladesh can benefit from Qatar's expertise in offshore gas exploration and energy distribution systems.
Referring to the agricultural development of Bangladesh, she said, this also creates an opportunity for cooperation in the agricultural processing industry in the buy-back arrangement with Qatar. In this context, she pointed out that the government has plans to establish three special tourism zones, where Qatar can be involved in both real estate and hospitality.
Besides, Qatari investors can consider portfolio investment in Bangladesh, she said, Bangladesh Securities and Exchange Commission is working hard for further development of capital market. We have taken several steps to put our bond market on a firmer footing.
The Prime Minister said that the disruption in the international energy market due to the Ukraine war has pushed a country like Bangladesh into a difficult situation. We are keen to increase LNG imports from Qatar to meet growing energy demand. We urge Qatar to explore more export opportunities from Bangladesh.
She reiterated his commitment to fulfilling Bangabandhu Sheikh Mujib's dream of building a 'Golden Bangla' and expressed confidence that Qatar's leadership and people would stand by Bangladesh in this regard.