Finance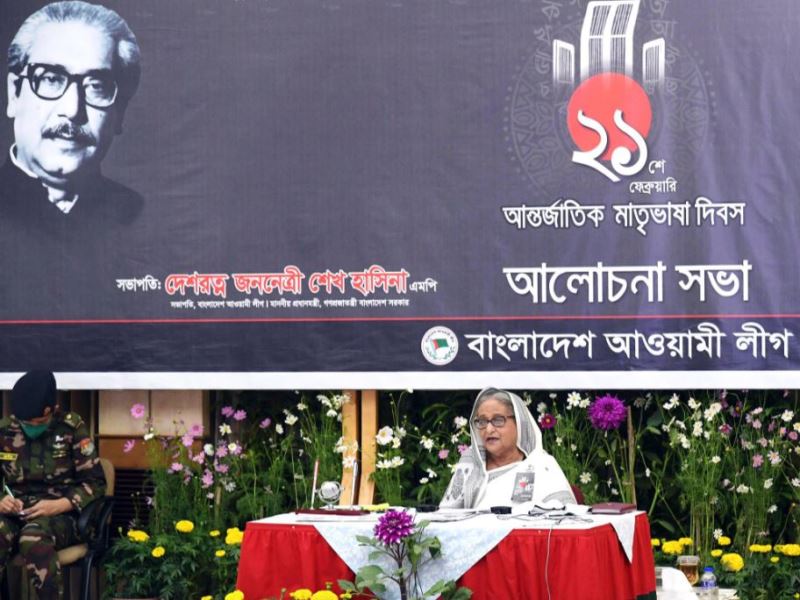 Collected
Sheikh Hasina urges AL members to read 'Goenda Nothite Bangabandhu' book
Dhaka, February 23: Prime Minister Sheikh Hasina has urged the party leaders and workers to read the books compiled "Bangabandhu in the documents of Pakistani intelligence" to know the various steps and contribution of Bangabandhu in all movements starting from language movement. She made the call while addressing a discussion meeting of the Awami League on the occasion of Martyrs' Day and International Mother Language Day at its central office on Bangabandhu Avenue on Monday.
Addressing the leaders and workers of the Awami League, the Prime Minister said, "We have published the report of the Pakistani intelligence agency against Bangabandhu Sheikh Mujibur Rahman from 1948 to 1971 in book form in seven volumes. They have reported on the activities of Bangabandhu, where he spoke in which movement."
"You will read these. The books contain all the parts of the Bangabandhu movement from 1948 to 1971. These reports were against Bangabandhu. But from this we can know valuable information of history."
She said, "I don't know if any other country in the world has published intelligence report against any other leader like this. I don't know if there is any such report against any other leader in our country, but it may be a few pages. They had 46 files against Bangabandhu Sheikh Mujibur Rahman in 48 volumes. There were reports, it had 46,000 pages."
"When I came to power in 2009, I collected these reports with the help of some SB officers. I also collected information from different districts. You have to read this book to know all the struggles and struggles of Bangabandhu including the language movement. This book describes our struggle for rights."
Highlighting the various steps taken by Bangabandhu in the language movement, the Prime Minister said, "The journey of freedom struggle through language movement has been completed through the victory of freedom struggle. In just three and a half years after independence, Bangabandhu took all steps to form a complete state. Socio-economic, Infrastructure."
"He has done unimaginable things in all areas, including education and medicine. He has done everything in a very short time. We are very surprised to see these."
She said, "Those who were in power for 21 years after the August 15 tragedy did not work for the betterment of the people. They were busy for the betterment of their own destiny. After 21 years, we (Awami League) came to power and followed in the footsteps of the father of the nation."