Finance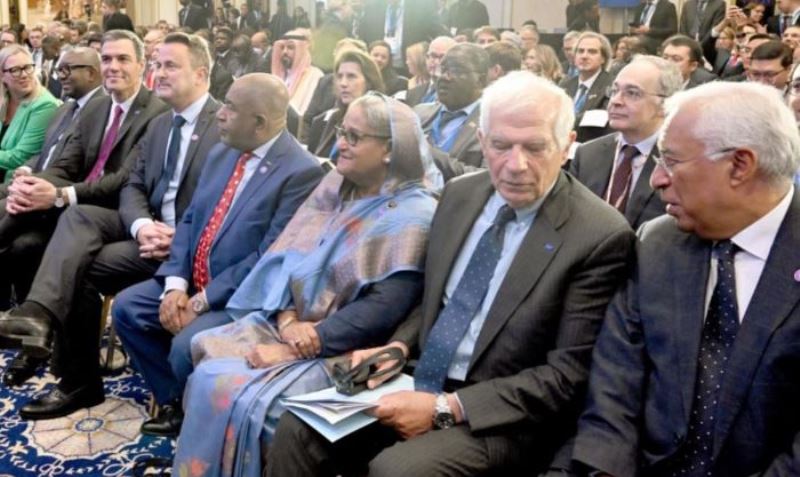 Photo: PID
Sheikh Hasina wants duty-free entry of Bangladeshi products in Belgium and Luxembourg till 2032
Dhaka, Oct 27: Prime Minister Sheikh Hasina has urged Belgium and Luxembourg to continue duty- and quota-free access to Bangladeshi products in the markets of the two countries till 2032 under the EBA (Everything But Arms) scheme.
Foreign Minister AK Abdul Momen quoted the Prime Minister as saying in a press briefing, "Continue the EBA facility till 2032 instead of 2029 to reward and not punish the transition."
He said that the Prime Minister of Bangladesh called for a bilateral meeting with Prime Minister of Belgium Alexandre de Crewe and Prime Minister of Luxembourg Xavier Bettel at Prime Minister's FPS Chancellery and residence.
Prime Minister said that Bangladesh is going to be promoted from LDC to developing country in 2026 and Bangladesh is in trouble due to covid-19 epidemic and war.
He said, therefore, we want both of your countries to continue the EBA facility for another three years from 2029, because this facility of the European Union will be helpful for our development.
The Prime Minister urged Belgium to invest more in Bangladesh, especially in pharmaceuticals, renewable energy and shipbuilding.
He said, you can work with us in renewable energy as well as shipbuilding sector. We are now manufacturing ships, you can get high quality ships from us. Both leaders agreed to sign a partnership agreement in the pharmaceutical sector. Both countries are very rich in this sector.
The Prime Minister said that Bangladesh is currently exporting medicines to 117 countries. Being good in the banking sector, Sheikh Hasina urged Luxembourg to develop the banking sector of Bangladesh through the exchange of their skills. She sought more cooperation from Luxembourg as Bangladesh has good relations with the country.
Momen said that in the meeting, Prime Minister of Belgium and Luxembourg praised the unprecedented development of Bangladesh in the last 15 years under the dynamic leadership of Sheikh Hasina.
He said that an air service agreement between Bangladesh and Luxembourg is going to be signed soon to increase bilateral trade and business.
Besides, bilateral cooperation in ICT and renewable energy sectors was discussed in the meeting. Prime Minister's Press Secretary Ihsanul Karim was present in the briefing.