Finance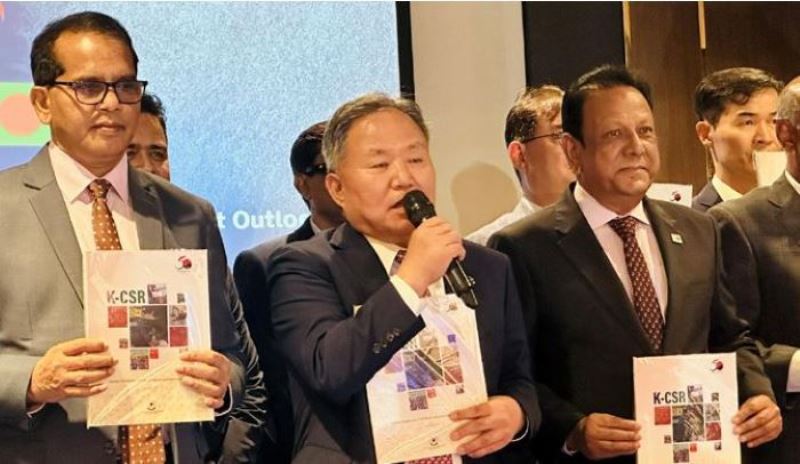 Photo: Collected
South Korea wants to be a partner in infrastructure development of Bangladesh
Dhaka, Oct 11: South Korea wants to be an important partner in Bangladesh's infrastructure development like ready-made garments (RMG) sector. However, in the two journeys (underdeveloped to developing countries) Bangladesh faces immense opportunities as well as challenges. Park Young-sik, the South Korean ambassador to Dhaka, said these things in a seminar at Hotel Intercontinental in the capital on Tuesday.
The ambassador said that this year, 50 years of diplomatic relations between Bangladesh and South Korea have been celebrated. In the last five decades, South Korea has witnessed a remarkable journey of trade, investment, development and exchange of relations between the citizens of the two countries. To trace the roots of this extensive bilateral relationship, we have to go back to the beginning of the establishment of Bangladesh's ready-made garment (RMG) factories.
He said, it is known to all that Bangladesh's Desh Garment and Korean company Daewoo founded Bangladesh's garment industry in 1979. Since then, Korean companies have contributed greatly to the rapid growth of Bangladesh's RMG sector, which now contributes 84 percent of the country's exports.
Park Young Sik also said that South Korea is the first country in the world to transform from a recipient country to a donor country of Official Development Assistance (ODA). ODA is the loan given by rich countries to improve the quality of life of the citizens of poor countries. With the support and assistance of the international community, Korea could have built its own economy in just a few decades. But Korea wants to repay its debt by sharing its development experience with other developing countries.
He said that by 2026, Bangladesh will come out of the category of least developed countries. Smart Bangladesh will become a developed country by 2041. As there are immense opportunities waiting for Bangladesh in the two journeys, there are also challenges. Bangladesh has the possibility of succeeding in both these advancements. Because, we have already seen the per capita income of Bangladesh increase three times in the last decade.
The ambassador said, on the other hand, the Bangladesh government and the private sector have to work hard to transition from a less developed country and become a developing country. Domestic industry may face collapse if it joins global competition without preparation. In that case, our suggestion is that Bangladesh should focus on strengthening the foundation.
Park Young-sik said that production in the manufacturing sector should be increased. Samsung manufactures various electronic products including mobile phones in Bangladesh.