Finance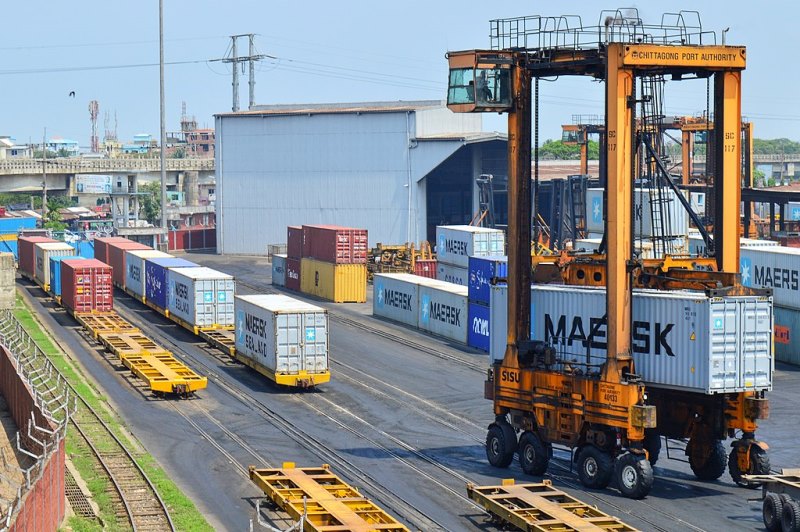 Moheen Reeyad/Wikipedia
Terrible congestion in the transportation of exported goods at Chittagong port
Dhaka, July 7: Due to stagnation in transshipment ports like Singapore, Colombo and Malaysia, there has been a terrible complication in the transport of export goods to Chittagong port. Apart from this, the crisis of containers and shortage of large ships and imbalance with imports have had a negative impact on the country's export trade. Due to this, there are piles of goods inside and outside the internal container depots (ICDs) engaged in loading exported goods.
According to the Bangladesh Inland Container Depots Association (BICDA), 19 depots currently have a capacity of 8,000 TEU containers. There are about 14,000 TEUS export containers stuck there. At normal times, depots have an average of six to seven thousand TEUs of export containers. Due to lack of capacity, there are piles of export products inside and outside the depots. In addition, there is a long line of trucks and covered vans waiting for two or three days for unloading in front of each depot.
Transporting goods through special feeder vessels can reduce clutter. If this situation continues, the country's export trade will lag behind.
It is learned that after the production of goods from the factory, foreign buyers first come to the depots subject to demand. The goods are then handed over to the foreign buyer's representatives (freight forwarders). Delegates arrange for the goods to be loaded in containers. At the same time, after completing the customs clearance activities, the containers were handed over from the depot to the port-bound ship.
According to the exporters, it usually takes two to three days to send a container to Chittagong port for shipment from ICD. At present it takes 10 days or more.
In addition, the whole export process takes 20 to 25 days longer than usual to deliver the goods to foreign buyers. As a result, the factories are in a cash crunch. Without it, the failure to deliver on time has created a risk of disaster in the production of the factory.
Again maritime trade is related to one port and another. The stalemate in the ports of Singapore, Colombo and Malaysia is unlikely to end soon. A large number of products have been exported to Europe and America. In contrast imports have been low. China's export trade has also gained momentum after the Corona epidemic. They have exported lots of products. This has created a crisis for containers and ships. All in all, day by day, a terrible mess is going to be created in the transportation of exported goods in the country.