Finance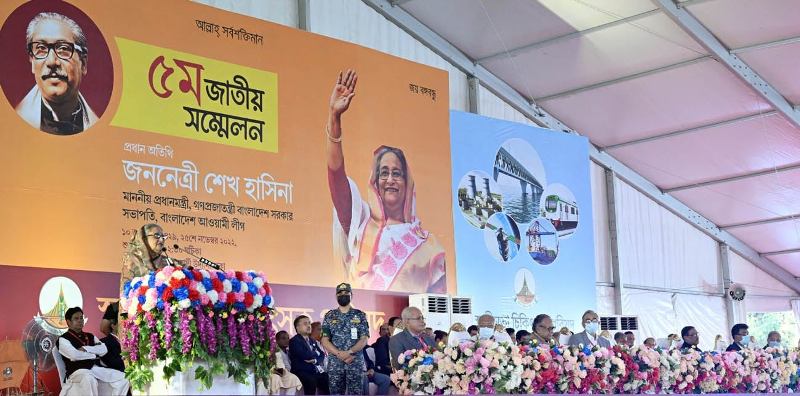 PID
There is enough reserve in the country: Sheikh Hasina
Dhaka, November 26: Prime Minister Sheikh Hasina condemned people who are misleading others about reserves, saying the country has enough reserves and that it is being used for public welfare. Her government will do everything possible for the welfare of the people, no one should suffer.
The Prime Minister said, "It is right that we have to spend from the reserve (for the welfare of the countrymen). We have so much reserve money that we can import food for five months, although to overcome any calamity we need to have reserves for importing food for three months.''
Prime Minister Sheikh Hasina said this in her chief guest address at the 5th National Conference of the Freedom Physicians Council at the historic Suhrawardy Udyan in the capital on Friday afternoon.
Mentioning that this reserve is being used for the welfare of the people, including import of rice, wheat, edible oil, fuel oil and vaccines, the Prime Minister said, "People are becoming expert on the reserve and they are discussing the reserve at different places apart from tea stalls. This money has been spent due to Covid-19, giving subsidies, investing in some projects and repaying foreign debt."
The Prime Minister said, "With the reduction of Covid, our import-export has increased. The work of the country has increased, moreover, it has to meet the incidental expenses of vaccine purchase and fighting Corona. Doctors, nurses, health workers had to be trained - this cost money. Money has to be spent like water. Then now we have to import food which costs more money to import."
The head of the government said, "As much as the price increases, the government is buying wheat from Ukraine-Russia, Canada during this war. For this reason wheat worth 200 dollars has to be bought for 600 dollars. We bring edible oil from Brazil to the countries where it is available. Effective steps have been taken to ensure that there is no problem in getting consumer goods. The government stands by the people."
Noting that the reserve has decreased not only in Bangladesh but also in many countries of the world, she said that her government has given some assistance to Sri Lanka and many other countries have asked for assistance from Bangladesh, but she did not mention the names of those countries.
She said, "We have to keep the reserve that we need for our country now."