Finance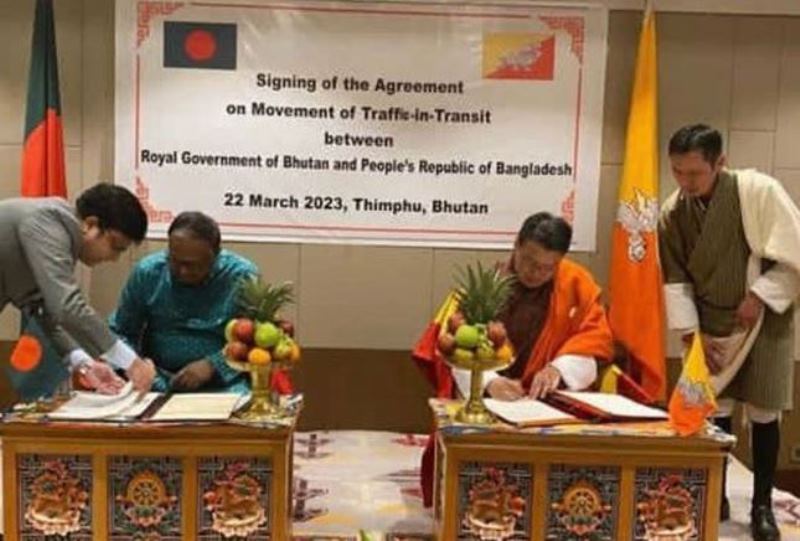 Photo: Collected
Transit agreement signed between Bangladesh and Bhutan
Dhaka, March 23: Agreement on the Movement of Traffic in Transit and Protocol has been signed to facilitate trade between Bangladesh and Bhutan.
Bangladesh Commerce Minister Tipu Munshi and Bhutan's Industry, Commerce and Employment Minister Karma Dorji signed the transit agreement. The agreement signing ceremony was held in Bhutan's capital Thimphu on Wednesday (March 22).
During the signing of the agreement, Commerce Minister Tipu Munshi said that by signing this landmark agreement, trade relations between the two countries will become easier and trade relations will get a new dimension. He also said that the signed agreement will bring diplomatic, economic, connectivity and strategic benefits to the country.
The commerce minister said that under the prudent leadership of Prime Minister Sheikh Hasina, Bangladesh wants to expand business and trade by increasing inter-communication between neighboring states and enriching the regional value chain. As part of this, Bangladesh is providing air, rail, land, seaport and seaport access to landlocked Bhutan under the transit agreement.
Stating that as a result of this agreement, the diplomatic relations between the two countries will increase and the regional communication will expand greatly, he said, Bangladesh will get various fees and charges if Bhutanese products are exported and imported through Bangladesh. In addition, infrastructural development will take place. If the transit agreement is implemented, the sea ports of Bangladesh will be more efficient and the revenue will increase. It will bring dynamism to the overall operations of the ports along with increased employment.
He said that he was proud to participate in this historic event as a freedom fighter. On the eve of the end of the Great War of Liberation under the leadership of Father of the Nation Bangabandhu Sheikh Mujibur Rahman, Bangladesh was recognized as the first independent state on December 6, 1971.
During the signing of the agreement, the Secretary of the Ministry of Industry, Trade and Employment of Bhutan Mr. Dash Tashi Omang and the Secretary of Energy and Renewable Resources Dash Karma Tshering, the President of Bhutan Chamber of Industries and the Director General of various Directorates of Bhutan were present in the presence of senior officials of the Ministry of Commerce.
The agreement and the protocol under it were finalized through three rounds of bilateral negotiations. It was approved by the Cabinet on March 13. The executed agreements and protocols will further implement the Bangladesh-Bhutan Preferential Trade Agreement signed earlier. The signed agreement will come into effect after ratification by both countries.