Muktijudho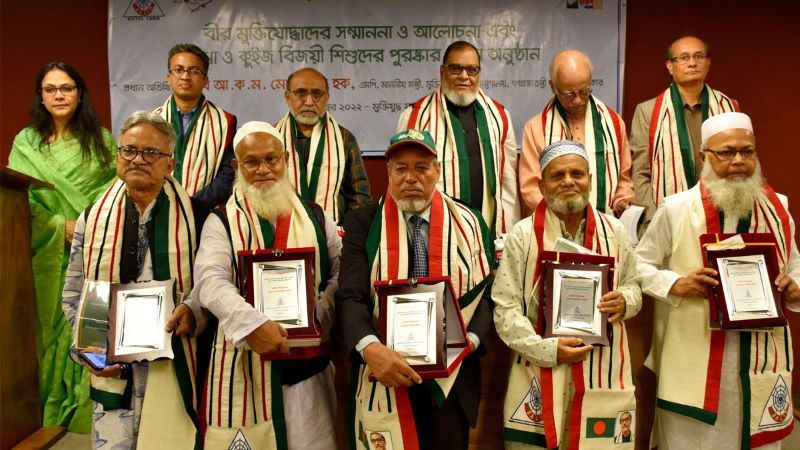 Photo: Collected
BALID honours brave freedom fighters
Dhaka, December 7: Bangladesh Association of Librarians, Information Scientists and Documentalists (BALID) honoured the brave freedom fighters associated with librarians and information services. Recently, this award was given in the seminar room of the Liberation War Museum.
Under the chairmanship of BALID Chairman Dr. Mohammad Hochcham Haider Chowdhury, Minister of Liberation War Affairs Bir Muktijoddha AKM Mozammel Haque delivered the chief guest speech. He handed over the crest of honor to the brave freedom fighters.
Janab Mofidul Haque, the founder-trustee of the Liberation War Museum, was the guest at the event. The honoured freedom fighters are - Prof. Dr. SM Mannan, Advocate Aktaruzzaman, Md. Anisur Rahman, Ainuddin Ahmed, Md. Abdul Gaffar and Md. Mahbub Alam.
BALID Secretary General Shashank Kumar Singh gave a welcome speech and BALID Joint Secretary General AKM Nurul Alam Apu spoke describing the activities and achievements of BALID. Apart from this, BALID's Vice President Regina Akhtar gave a speech of thanks, the convener of BALID's special day celebration committee, Dr. Moniruzzaman.
On this occasion, prizes were given to the winners of the essay and quiz competition on Bangabandhu and the Liberation War in collaboration with the Liberation War Museum.