Muktijudho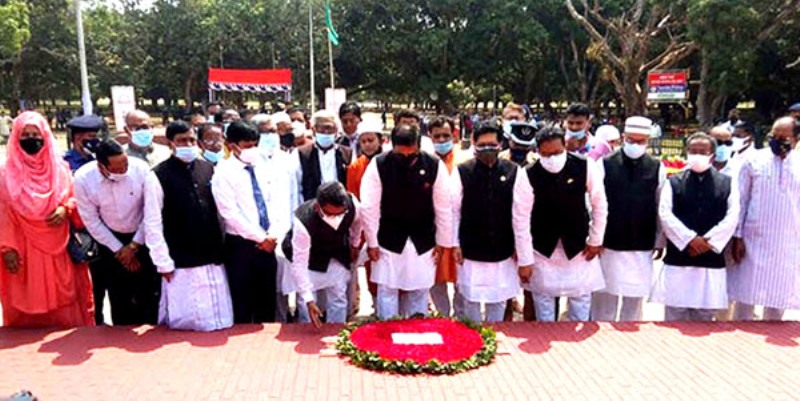 Photo: Collected
Bangladesh observes historic Mujibnagar Day
Own Correspondent, Dhaka, April 18: Historic Mujib Nagar Day was observed across the country including the capital Dhaka and Meherpur on Sunday through various programmes.
On the occasion of the day, various programmes were organized including hoisting of national flag, discussion meeting, paying homage to the portrait of Bangabandhu, award of guard of honour and parade.
Due to the crisis caused by the global Covid-19 pandemic, this historic day was celebrated on a limited scale with due dignity, avoiding large crowds.
The day is unique in the history of Bangladesh's freedom struggle and liberation war. During the war of liberation in 1971, the first provisional government of independent Bangladesh was officially sworn in on this day in Arkanan of Baidyanathtala village in Meherpur. Later this Baidyanathatala was named as the historical Mujibnagar.
Bangladesh was officially declared a sovereign people's republic on April 10 of the same year after a brutal attack on unarmed Bengalis by the violent Pakistani aggressors on the night of March 25, 1971.
Father of the Nation Bangabandhu Sheikh Mujibur Rahman was declared the first President of the People's Republic of Bangladesh. In the absence of Bangabandhu, Syed Nazrul Islam was appointed acting President and Tajuddin Ahmed was appointed Prime Minister. The war of liberation was won on December 16 under the successful leadership of this Provisional Government.
Awami League General Secretary Obaidul Quader laid a wreath at the portrait of Father of the Nation Bangabandhu Sheikh Mujibur Rahman in front of Bangabandhu Bhaban on behalf of Prime Minister Sheikh Hasina on the occasion of Mujibnagar Day.
Later, Obaidul Quader along with senior leaders of the party laid a wreath at the portrait of Bangabandhu on behalf of the Awami League.
Meanwhile, the historic Mujibnagar Day was inaugurated on April 17 by officially hoisting the national flag at the foot of the historic Mujibnagar Memorial in Meherpur next to the Sheikh Hasina Mancha. The national flag was officially hoisted at sunrise. After hoisting the flag, 1 minute silence was observed and prayers were offered for the forgiveness of the souls of the martyrs. After that Guard of Honour and parade was displayed by the police, BGB, Ansar, Muktijoddha, VDP, BNCC, Scout, Galsgide and school students.