Muktijudho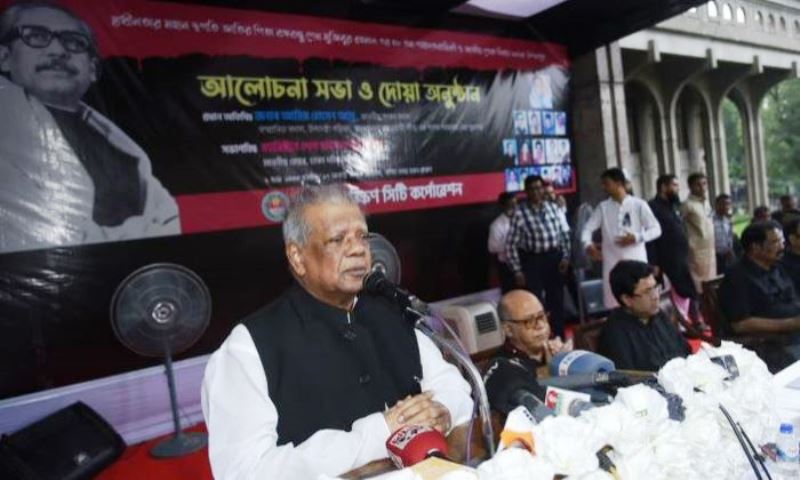 Photo: Collected
Bengali nation not allowed to know correct history of the liberation war for 31 long years
Dhaka, August 18: Member of Awami League Advisory Council and coordinator of 14 parties Amir Hossain Amu MP said that the Bengali nation was not allowed to know the correct history of the liberation war for 31 years. People would not have gone to the BNP-Jamaat procession today if they had known the true history of the liberation war.
He said these while addressing a discussion meeting and prayer programme on the occasion of the 48th Martyrdom Anniversary of Father of the Nation Bangabandhu Sheikh Mujibur Rahman and National Mourning Day at Nagar Bhaban premises on Thursday afternoon. Advocate Kamrul Islam, a member of the presidium of Awami League, spoke as a special guest at the condolence meeting under the chairmanship of Mayor Barrister Sheikh Fazle Noor Tapas under the initiative of Dhaka South City Corporation (DSCC).
Amir Hossain Amu also said that the defeated forces of independence killed Father of the Nation Bangabandhu and his family to take revenge. On the night of August 15, 1975, the plot to bring Bangladesh back to Pakistani ideology was fulfilled through this murder.
Advocate Kamrul Islam said, "Ziaur Rahman killed Bangabandhu. His son Tarique Rahman tried to kill our leader Sheikh Hasina."
Demanding justice for all those behind the assassination of Bangabandhu, he said, "Through the commission that will be made, all those who were involved behind the scenes including murderer Ziaur Rahman, murderer Mostak, should be unmasked and brought under the law. To bring them under justice and those who have already died, They have to complete their posthumous trial."
Mayor Barrister Sheikh Fazle Noor Tapas presented the documentary of various activities of BNP in the past and said that murderer Ziaur Rahman was the main master behind the murder of Father of the Nation Bangabandhu Sheikh Mujibur Rahman and his family. "All activities of Ziaur Rahman were anti-liberation war and anti-spirit of liberation war and anti-independence for the reactionary forces. He rehabilitated Razakar, Al Badr, Al Shams. Raised the blood-stained flag of Bangladesh on their cars. Destroyed democracy, killed."