Muktijudho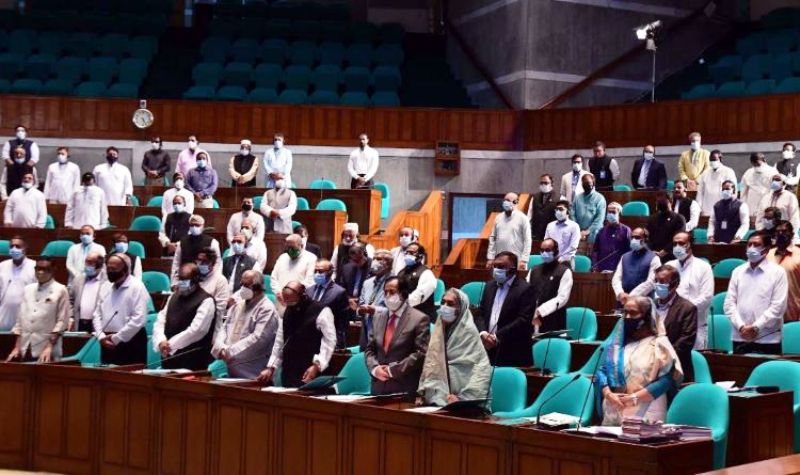 Photo: PID
BNP opposes new bill in Parliament to make list of Razakars
Own Correspondent, Dhaka, June 6: The legal barriers to make the list of anti-independence forces, including Razakars, Al-Badr, Al-Shams forces, are going to be remoed as the 'National Freedom Fighters Council Bill-2022' with the provision of making a list in this regard has been raised in the Parliament.
On Sunday (June 5), after Liberation War Affairs Minister AQM Mozammel Haque raised the bill in Parliament, it was forwarded to the Parliamentary Standing Committee on the Ministry of Liberation War Affairs for examining the bill and to submit a report before the Parliament within seven days.
BNP MP Harunur Rashid objected the bill. He demanded to include the definition of the spirit and ideology of the Liberation War in the draft law. He also demanded that the definition of 'freedom fighter' be included in the bill.
Describing the bill as 'incomplete', MP Harun said those who were abroad and took refuge in India were also being given freedom fighter certificates. It's embarrassing. Raising the role of his family during the war of liberation, the MP said he was 10 years old then. He too can claim to be a freedom fighter.
Meanwhile, Liberation War Affairs Minister AQM Mozammel Haque responded to Harun's objection. Later, Speaker Dr. Shirin Sharmin vetoed MP Harun's proposal, which was rejected. The existing law does not mention the publication of the list of opponents of Bangladesh's independence.
According to the new bill, it will send recommendations to the government for listing and publishing gazettes of those who were engaged in activities as members of the Razakars, Al-Badr, Al-Shams forces or as members of the paramilitary forces or as members of the paramilitary forces engaged in armed struggle, or opposed the liberation war or, organized war crimes by killing innocent people through criminal heinous acts like murder, rape, looting, arson or have directly, actively or indirectly opposed independence and liberation war in a single, joint or party decision, between March 26 and December 16, 1971, during the Great War of Liberation.
The bill further states that the number of members of the council (National Freedom Fighters Council) has been increased to 12. In the previous law there were nine people. The prime minister will be the chief adviser to the council. Eight members of the council will nominate the chief adviser. Those who will be heroic freedom fighters, any person involved in the liberation war related activities or will be a member of the freedom fighter family.