Muktijudho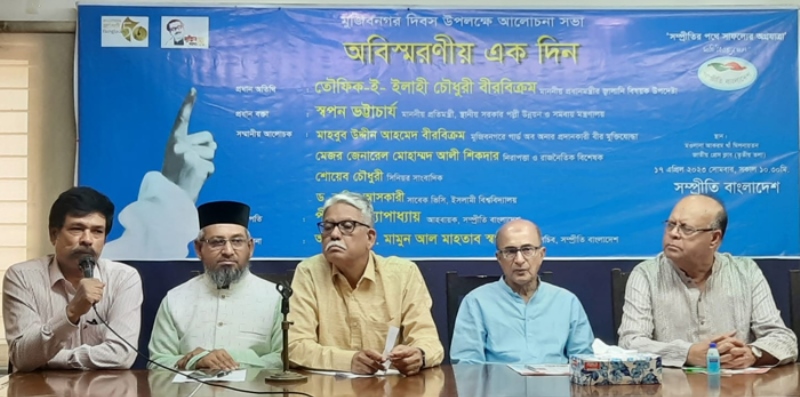 Photo: Collected
Call to present events of Liberation War to new generation
Dhaka, April 18: The pro-liberation forces have been in power for almost 15 years, but still we have not been able to create that kind of awakening among the youth. The history of Liberation War, the sacrifice of people should be presented to the new generation by the state. Otherwise, the oath we took at Mujibnagar on April 17, 1971, will not be achieved.
The speakers said these in the discussion meeting titled 'Unforgettable Day' organized by 'Sampriti Bangladesh' on the occasion of historic Mujibnagar Day at Maulana Akram Khan Auditorium of National Press Club on Monday.
They said, "The importance of the Mujibnagar government in the life of the Bengali nation is immense. Many foreign journalists were present there that day. Our country was formed by defeating all communal forces. At that time, the Mujibnagar government was widely publicized due to foreign journalists. As a result, it had a far-reaching impact on the international arena. Today we talk about Jamaat-Shibir conspiracy. But there were people who brought no-confidence motion against Tajuddin at that time. But in the end it didn't happen. There are many such people within Awami League, we have to be aware of that."
The speaker also said, "Those who do not accept the birth certificate, how can they be children of this country? How do they do politics in Bangladesh? This question needs to be resolved. Even after 52 years of independence, the conspiracy to distort the history of our liberation war is going on. Which is really sad for us as a nation."
Prime Minister's Energy Adviser Tawfiq-e-Ilahi Chowdhury said in the speech of the chief guest in the discussion meeting, "If we talk about Mujibnagar government, we will talk about March 7. The call for independence on March 7 reached the then Ajparagaon Meherpur. That's why today is April 17. From March 30 to April 17, there was no recognition of the freedom-loving people of the country."
He added, "When famine starts in the world, a kind of class division is created. A kind of class division has also been created in our country. Due to the class differences, a kind of distance has been created between us and the common people. As a result, various types of unrest are also created. Bangabandhu's greatest quality was that he was very quick to approach people. It was not his political strategy. He was self-motivated and approached people. I think if we are close to people then we can better understand people's problems and happiness. Only then will the solution be found."