Muktijudho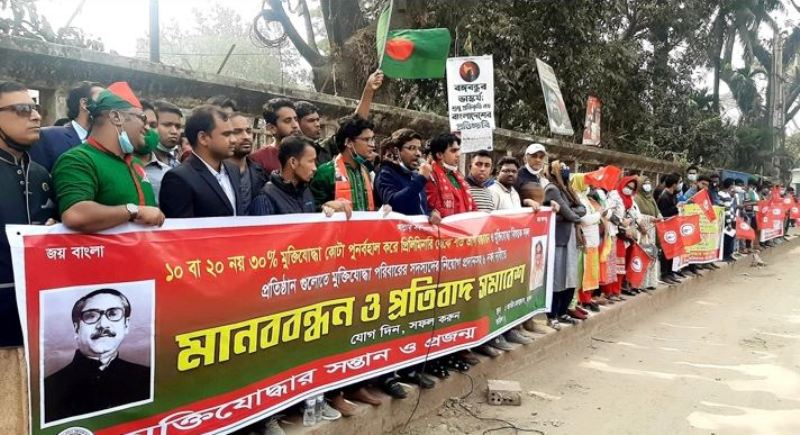 Collected
Demand for reinstatement of Muktijoddha quota within a week
Dhaka, January 16: There have been protest rallies and human chains in the capital demanding six points including reinstatement of Muktijoddha quota in government service within a week. The event was held on Friday (January 15) in front of the National Press Club under the banner 'Children and Generations of Freedom Fighters'.
Ahidul Islam Tushar, the convener of the organization, said, "The certificate of the Ministry of Liberation War signed by the Prime Minister from 1997 to 2001 has been canceled." I think there is a deep conspiracy to make the Prime Minister controversial by revoking this charter. When the charter signed by Prime Minister Sheikh Hasina was canceled when the Awami League government was in power, then who runs this country? '
He further said, "This quota was given by the Prime Minister to the children of the freedom fighters in 1997 after the age of entry of the heroic freedom fighters expired. But it has been disputed through cancellation. The children and generation of freedom fighters are ready to give a stern response to those who are conspiring to make Bangabandhu and Prime Minister Sheikh Hasina controversial. '
At that time a six-point demand was put forward by the organization.
The demands are: to ensure exemplary punishment for those who insult the father of the nation Bangabandhu Sheikh Mujibur Rahman and his family, including the heroic freedom fighters;
Restoration of 30 percent Muktijoddha quota in all government jobs, preservation and formation of special commissions from preliminary to 100% implementation and filling of reserved posts in Muktijoddha quota from post-independence to present times through special appointments.
To ensure the constitutional recognition of the heroic freedom fighters, to ensure family protection law and medical services, to build a specialized freedom fighter hospital and to establish a freedom fighter bank for their welfare;
The responsibility of the parliament should be handed over to the heroic freedom fighters with the quick election of the freedom fighters parliament;
Seizure of property of anti-independence activists including Razakars, prohibition of politics and disqualification of their descendants from admission in all government educational institutions and dismissal of employees;
Legal action should be taken against all anti-independence activists who are creating anarchy by stopping all anti-liberation propaganda through social media, self-proclaimed razakars in the name of quota reform movement and attacking the residence of VC at Dhaka University; In case of recruitment in all government jobs, the age limit of children and generation of freedom fighters should be 35.