Muktijudho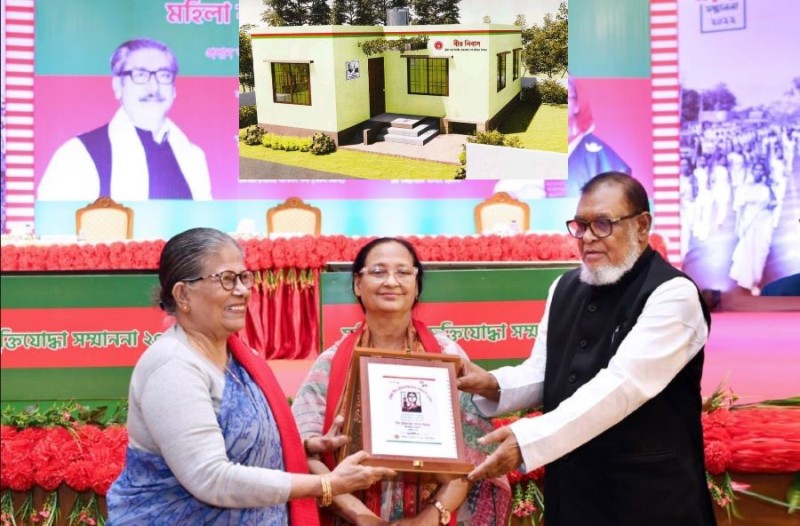 Collected
Every female freedom fighters to get house
Dhaka, February 15: Liberation War Affairs Minister AKM Mozammel Haque has said that all the female heroic freedom fighters will be given 'Bir Nibas' (house). He was speaking as the chief guest at the Osmani Memorial Auditorium in the capital Dhaka today on the occasion of the golden jubilee of the great independence.
State Minister for Women and Children Affairs Fazilatun Nesa Indira presided over the function. Besides, the secretary of the same ministry Dr. Md. Anwar Hossain Hawlader. Virtually all the deputy commissioners were present.
During this time 654 women freedom fighters were honored. All the honored female freedom fighters were given crests / honorary mementos, scarves, sarees and souvenirs. The chief guest presented crests / honors, scarves, sarees and souvenirs to 65 women freedom fighters from Osmani Memorial Auditorium and the rest of the Deputy Commissioners in the conference room of his office.
At the same time, the State Minister for Women and Children Affairs said that women heroic freedom fighters have become shining examples in the history of the great liberation war from the very beginning of the liberation war through direct participation in war and support of heroic freedom fighters and self-respect and self-sacrifice. The sacrifices of women in the great liberation war are immense. Knowing they could be widows, the wives sent their husbands to the battlefield. Mothers sent their sons to the battlefield knowing that they could lose their children. Knowing that they could be tortured, the girls fought with arms and snatched victory.
The program featured the theme song of the year of Mujib and lyric poems about the glorious and struggling lives of female heroic freedom fighters. Among the honored female heroic freedom fighters at the Osmani Memorial Auditorium were Makduma Nargis and Farida Khanam Saki and Rokeya Shirin, a virtual freedom fighter from Gopalganj Deputy Commissioner's Office.