Muktijudho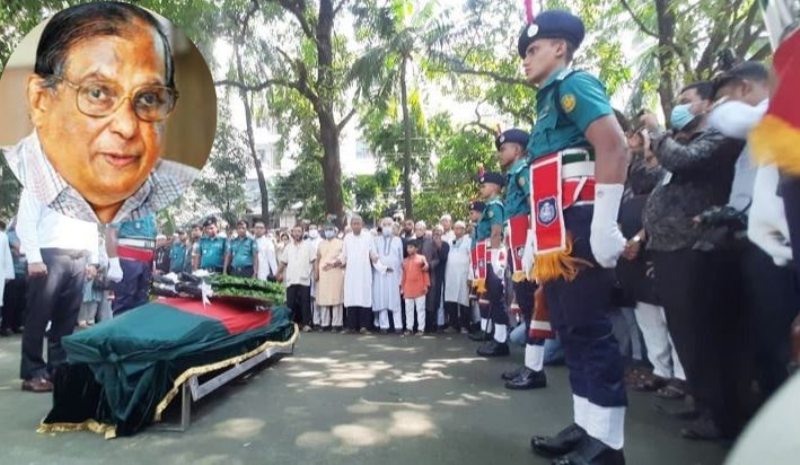 Collected
Freedom fighter-bureaucrat Akbar Ali Khan dies
Dhaka, September 9: Akbar Ali Khan, freedom fighter, bureaucrat, economist and advisor to the former caretaker government is no more (Inna Lillahi Wa Inna Ilaihi Raziun). He died on Thursday night.
Arif Mahmud, General Manager of Evercare Hospital, said that when he was brought to Evercare Hospital around 10 pm on Thursday, the doctors declared him dead. We fear he died on the way to the hospital. We have only got his dead body here. We did not find him alive.
Akbar Ali Khan's younger brother Kabir Uddin Khan told the media that he died of a heart attack.
Gulshan Azad Mosque today Friday. Akbar Ali Khan's funeral has been completed. At the end of the funeral, he was given a guard of honor. His body was taken from the hospital at 9:30 am on Friday (September 9) to his home in Gulshan-1. Then at 12:30 noon, his body was taken to Azad Masjid from his home in Gulshan. After Friday prayers, his funeral was held in the Imamate of Khatib Maulana Mahmudul Hasan.
BNP Secretary General Mirza Fakhrul Islam Alamgir, relatives of Akbar Ali Khan including Dr. Zafrullah Chowdhury, former government officials and common people participated in the funeral.
After the funeral, Dr. Zafrullah said that there is a shortage of people who can speak the truth in this critical time. At such a time, the nation needed him very much. But the loss of him at this moment is irreparable.
Mirza Fakhrul Islam Alamgir said, Akbar Ali Khan was a brilliant man. He was a government official. Although a government official, he was involved with the people throughout his life.
After the funeral, the body was taken to Mirpur Shaheed Intellectual Cemetery for burial. He was laid to rest in the section reserved for brave freedom fighters in Mirpur Intellectual Cemetery.
His burial took place on Friday (September 9) at 3.5 pm. His family and relatives were present.
During the liberation war in 1971, Akbar Ali was the District Administrator or SDO of Habiganj. He was prosecuted by the Pakistan military government for actively working with the Mujibnagar government at that time. He was sentenced to 14 years rigorous imprisonment in his absence.