Muktijudho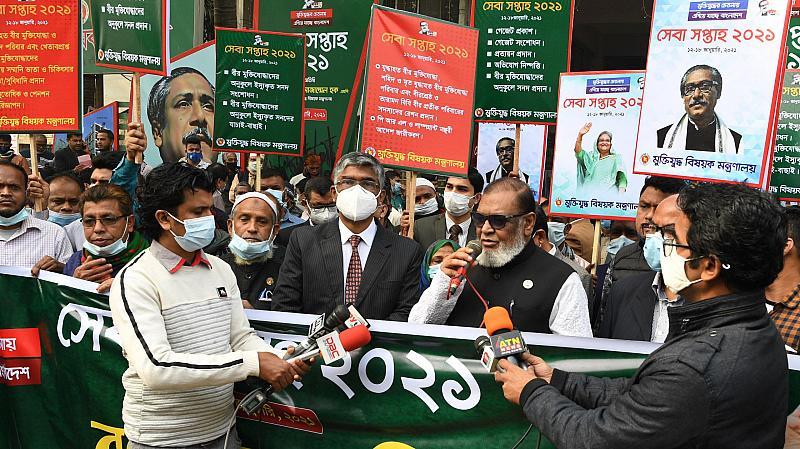 Collected
Government thinking of listing allies of freedom fighters
Dhaka, January 18: The government is thinking of listing the people who helped the freedom fighters during the Liberation War in 1971. After the list of freedom fighters is finalised, it will be considered whether the list of freedom fighters' associates can be made, said Liberation War Affairs Minister AKM Mozammel Haque.
The minister made the remarks at the inaugural function of the Ministry of Liberation War Affairs 'Service Week-2021' on Monday (January 18). The event was organized on the road in front of the Ministry of Liberation War Affairs.
The final list of freedom fighters will be released on March 26, the minister said, adding, "Many people (applying for recognition of freedom fighters) have not been screened yet. Maybe they cooperated with the freedom fighters." By definition, they are not recognized as real freedom fighters. We have a plan - once these (the final list of freedom fighters) are finalised, we will consider whether the list of allied freedom fighters can be made. '
"At the same time, 3 million people have been martyred, many of them by prominent personalities or in other ways, whether those lists can be completed," he said. Similarly we are trying to legislate to list the Razakars in Parliament. There are all kinds of people's demands, people's questions and inquiries. After finalizing the list of freedom fighters, we will devote ourselves to those matters. Work is going on in that regard as well, but it will be completed in a legal manner and by formulating policies.
The Minister for Liberation War Affairs said, "All the services of the Ministry of Liberation War Affairs are being provided digitally. All the information related to the services of this ministry has been entered in the website of the ministry. You can apply for the services of this ministry from any part of the world. '
He said, 'Honorary allowance of Bir Muktijoddha has been given directly to the account of Bir Muktijoddha through Government-to-Person (G-to-P) system through text message from Bangladesh Bank. In this manner all the ancillary surcharges will be borne by the government. For this, the necessary information of the heroic freedom fighters has been included in the Database Software Management Information System (MIS).
On the occasion of the birth centenary of Father of the Nation Bangabandhu Sheikh Mujibur Rahman and the golden jubilee of great independence, 14,000 houses will be constructed for the indigent freedom fighters, said the Liberation War Affairs Minister.