Muktijudho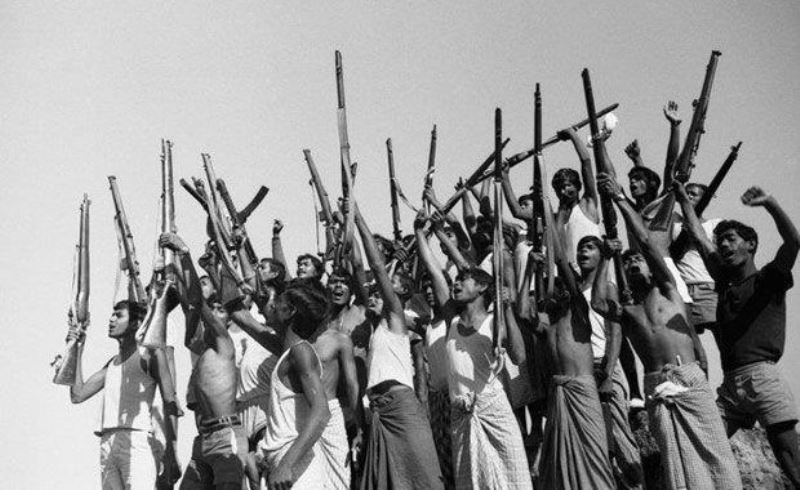 File photo/Collected
In March, Bangabandhu's family changed residences frequently
বিশেষ প্রতিবেদন : পঞ্চাশের দশক থেকে জাতির পিতা বঙ্গবন্ধু শেখ মুজিবুর রহমানের সার্বক্ষণিক সঙ্গি ছিলেন মোমিনুল হক খোকা। একাত্তর সালে পাক বাহিনীর হাতে ধরা পড়ার আগ পর্যন্ত বঙ্গবন্ধুর পরিবারকে তিনি আগলে রাখেন। এ সময় তিনি রাজধানীর বিভিন্ন স্থানে বঙ্গবন্ধুর পরিবারসহ আত্মগোপনে থেকেছেন। মোমিনুল হক খোকার 'অস্তরাগে স্মৃতি সমুজ্জ্বল : বঙ্গবন্ধু, তাঁর পরিবার ও আমি' শিরোনামে স্মৃতিচারণামূলক গ্রন্থ থেকে সেসময়কার ঘটনাবলীর অংশবিশেষ নীচে তুলে ধরা হলো:
(After earlier publication)
Finally one morning I went out to look for the house. When I went to Malibagh area, I saw to-lets hanging in front of some houses. I liked a house. I went back to Uari and picked up my wife, sister-in-law and the children in the car and came again to see the house. But as soon as we reached home, many people gathered around our car. It seemed as if these people had not seen a car for a long time. Bhabhi then said, "Vadi, it's impossible, we can't get down here from the car, and I can understand what will happen after getting down. You quickly take the car and go somewhere else."
I turned the car without seeing the way and started going towards Chowdhury Para. Meanwhile, the day is coming to an end. After some time the military march will start.
I told Bhabhi, "Let's go back to Uari for today." Bhabhi said, "No, find an empty place, if necessary we will all spend the night in the car. Well, think about your brother's condition, how they kept him, only Khoda (Allah) knows."
There was eerie silence all around as evening fell. What should I do? Suddenly I saw a two-story abandoned house in front of me. The plaster of the walls had peeled off. Without thinking about anything else, I drove the car into the house. Leaving Bhabi and children in the car, I entered the house. The first floor was empty, there was no sound on the second floor either. But it seemed like the two-story house was not empty. I dared to enter a room on the second floor. Is this even possible? I Couldn't believe my eyes. I saw Polly (eldest daughter of late Said Hossain) and her husband Odud sitting in that room.
Polly saw me and came running. I somehow pacified her and came down and brought the wife and children. Then Polly and Bhabhi started crying bitterly. There was complete silence all around. But inside these two women were crying. Odud and I are silently, words of consolation seem to be lost.
Everyone in the family, including Russel, was hungry, but who will go outside to sacrifice their lives. Everyone had to spend a sleepless night in the abandoned room of that abandoned house. I was looking at Bhabhi and thought that all the troubles will be over. We all have to sustain this nightmare, but who knows how far!
The next morning I left them and went out alone to look for the house. I saw a beautiful two-storied house in Chowdhury Para. The house would be rented. The owner of the house was a woman. I was surprised to see that this woman was none other than the owner of the Kamalapur Ship House where my friend Engineer Ghiyasuddin and I had rented in early 1955. This motherly woman always loved me. I was acquainted with two of her three sons, Dalu and Badr, and two daughters Hena and Manu. Dalu is now an expatriate and Badr is a group captain (now retired) who miraculously survived the 1977 Air Force raid.
Hena and her husband are expats and Manu is a doctor now, but I don't know where she stays. As I was talking, the woman was surprised to see me. She asked, for whom I wanted to rent the house. She agreed as soon as I explained it to her. I was happy and went to that house with everyone. Polly was pregnant then, so she also stayed with us.
As soon as she reached, Bhabhi became restless again, "Bhaidi, I did not get any news from Husu, look around, she is pregnant, where is she, how is she?" It wasn't easy to search, where do I go to search? I again approached my brother-in-law in Uari. My brother-in-law went to Hasina's husband Dr. Wazed's office and came to know that Wazed was living his wife and sister-in-law at a colleague's house in Chowdhury Para.
After informing Bhabi, I went alone to look for them. They lived in a house in Chowdhury Para. From there Dr. Wazed was attending office regularly. When I went to that house, Wazed came out. With his friend and colleague Mr. Mozammel. Wazed was furious. Before I could say anything, he shouted, "Uncle, why did you come here? You don't know, Pak army intelligence is roaming behind you. You get out of here immediately." I just said, "Hasu's health is not good, Bhabhi wanted to find out. Well, it's okay, stay well." I was sad while driving back. (To be continued)