Muktijudho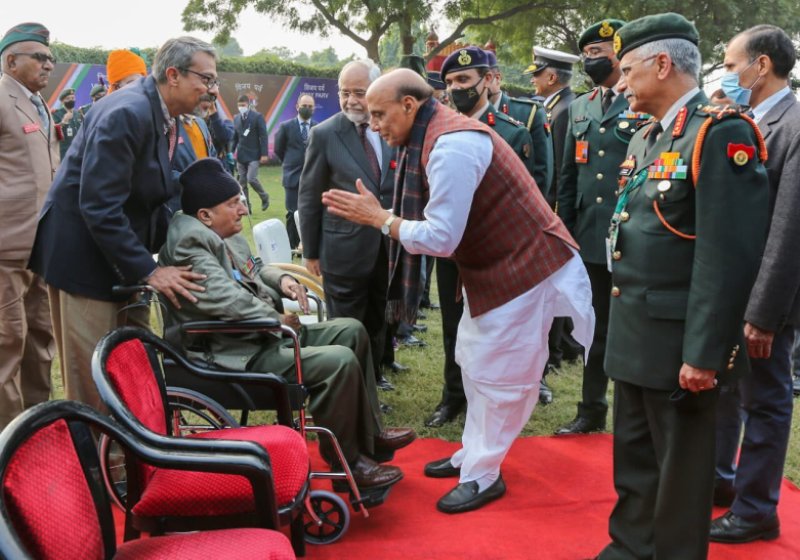 twitter.com/rajnathsingh
Indian Defense Minister pays deep respects to freedom fighters
Own representative, Dhaka, 15 December: The Golden Jubilee of Victory was celebrated in the Indian capital Delhi on Tuesday. At that time, Indian Defense Minister Rajnath Singh met senior citizen of Bangladesh and India who took part in the 1971 war of liberation. He paid deep homage to the brave soldiers who ensured victory in the great liberation war of 1971. On the occasion, Rajnath called upon the present Indian youth to follow the brave warriors and build a self-reliant India.
The country observes the day every year to celebrate India's contribution in the 1971 war of liberation. Important dignitaries from Bangladesh and India who participated in the war of liberation were present on the occasion. On this occasion, a delegation of freedom fighters of Bangladesh was invited earlier.
Rajnath said the victory of 1971 was historic. It was a victory against injustice. At that time, the people of India worked against oppression, for humanity. He remembers with deep respect the Indians who lost their lives in that war between Bangladesh and Pakistan.
The Indian Defense Minister also paid homage to Father of the Nation and First President of Bangladesh Bangabandhu Sheikh Mujibur Rahman. He also praised Bangabandhu's leadership and contribution in the war of liberation and the development and progress of Bangladesh since independence.
Chief of Army Staff General MM Naravane, Chief of Air Staff Air Chief Marshal VR Chowdhury, Chief of Naval Staff Admiral R Hari Kumar, Defense Secretary Dr. Ajay Kumar, other senior civilian and military officials of the Ministry of Defense, families of the elders and members of the Bangladesh delegation were present.