Muktijudho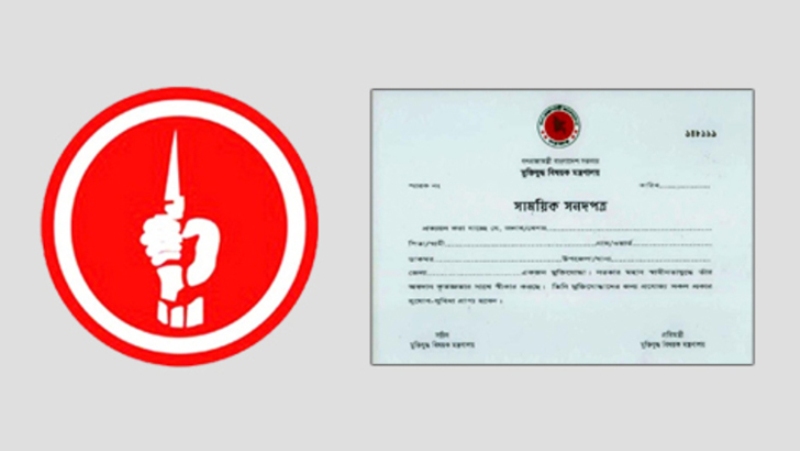 File Picture
Jatiyo Muktijoddha Council cancels 30 freedom fighters' certificates
Dhaka, October 27: The government has cancelled the certificates of 30 more people. Their certificate has been revoked on the recommendation of the Jatiyo Muktijoddha Council (Jamuka) as there was no evidence to support their participation in the liberation war. The certificate has been cancelled and the gazette has been issued on 18 October. This was recommended at the 68th meeting of Jamuka.
Earlier, the gazette of 134 freedom fighters was cancelled in July.
Earlier, on June 7, the certificates of 1,181 freedom fighters who had joined the Air Force and BGB were cancelled.
Among the freedom fighters whose certificates have been revoked are the late Sadeq Ali and Abdul Gafur Azad of Comilla and Md. Shafiqur Rahman Hawladar, Md. Fayez Ullah Khan, Md. Nazrul Islam, Md. Khalilur Rahman, Mrinal Kanti Saha of Chandpur.
Narayanganj's Md. Tara Mia, Md. Nurul Islam, late Md. A. Jalil and Md. A. Hakim's certificate has also been cancelled.
Besides, the deceased Amulya Ratan Biswas of Jessore, Uttam Das of Moulvibazar, Magura's Md. Ful Mia, Nilphamari's Md. GM Zulfiqar, Jamalpur's AKM Fazlul Haque, Narsingdi A. Hai, late Md. Isahak Mia of Chapainawabganj, Naogaon's Md. Anisur Rahman, Md. Anisur Rahman Khan and Md. Khorshed Ali, Kurigram's Md. Ramzan Ali, deceased Ahid Ali Mandal, Pabna's Md. Hossain Ali, Md. Azizul Haque, Md. Muktar Hossain, Muhammad Ismail Hossain and Natore's Md. Samser Ali, Md. Mumtaz Ali's certificate have also been cancelled.