Muktijudho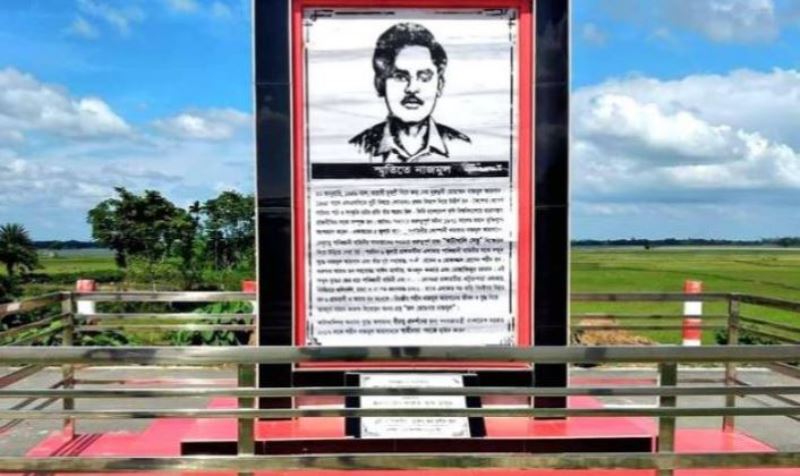 Photo: Collected
Katakhali War Day today
Dhaka, July 6: Today (July 6) is the historic Katakhali War Day of Jhenaigati Upazila of Sherpur. During the liberation war, on this day in 1971, 12 people including three freedom fighters were martyred in the frontal battle with the Pakistani invading forces. Freedom fighter commander Nazmul Ahsan, Mofazzal Hossain and Ali Hossain of the same family were martyred.
After independence, a hall in Mymensingh Agricultural University and a college in Nalitabari were established in the name of Shaheed Nazmul. Recently, the local administration has established Shaheed Nazmul Park next to the war destroyed bridge in Katakhali.
In recognition of his contribution to the liberation war, Shaheed Nazmul was awarded the Freedom Medal in 2018. Through this, the official recognition of 'Operation Katakhali' war has been received.
According to local information, on the night of July 5, 1971, freedom fighters under the leadership of Company Commander Nazmul fitted dynamite and blew up the Katakhali Bridge on the Jhenaigati-Sherpur road. The freedom fighters took refuge in the nearby village of Rangamati as it was dawn to complete the successful operation. The tired freedom fighters were resting there, not feeling it safe to go out as the daylight broke. But Jalal Mistry of that village conveyed the news about the location of the freedom fighters in Ahmednagar camp of Pakistani forces.
On receiving the news, the Pakistani invasion forces along with Razakar, Al-Badr surrounded Rangamati village from three sides and started firing on the morning of July 6. The freedom fighters led by Commander Nazmul Ahsan also fired back. The battle begins. As the village was surrounded from three sides, the only way for the freedom fighters was Rangamati Bill. That too was in the water then Toitumbur. In such a situation, Commander Nazmul Ahsan allowed the freedom fighters to swim across the Rangamati Bill while doing covering fire. After everyone left, Commander Nazmul's chest was grazed by the brush fire of Pak soldiers. While bringing the dead body of Commander Nazmul, his cousins Mofazzal Hussain and Ali Hussain were also martyred by Pakistani firing.
Pakistani forces attacked Rangamati village for harboring freedom fighters. After finding out 60 to 70 villagers were lined up and fired with brush. Nine people died on the spot. One of them was shot dead. Thinking him dead, the invading forces left him. Yunus Ali of Rangamati village is still alive with the horror of that day when he came back from the face of death with a bullet in his leg. In addition, the invading forces brutally tortured several women in the village.