Muktijudho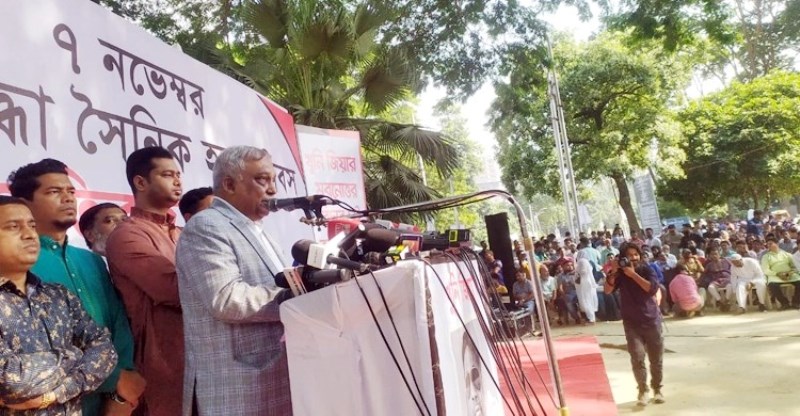 Photo: Collected
Killers of freedom fighters will also be tried
Own Correspondent, Dhaka, Nov 8: Home Minister Asaduzzaman Khan Kamal said, the daughter of Bangabandhu Sheikh Mujibur Rahman, the greatest Bengali of all time, showed us hope by prosecuting war criminals, we believe that those who killed the freedom fighters will also be tried in this country, inshallah. An inquiry committee is being formed for this. Their killings must be tried.
He said these while addressing the chief guest at the protest meeting organized under the banner of 'November 7: Freedom Fighter-Soldier Killing Day' at Jatiya Shaheed Minar in the capital on Monday (November 7). The families of the victims of November 7, 1975, organized this meeting.
The home minister said that after the indiscriminate killing of the army officers, their families do not even know where the bodies were buried. We prosecuted war criminals. After the trial, the bodies were returned to their relatives. This too they (families of soldiers and freedom fighters) did not get. That's why today they want justice for murder. We hope they live to see the trial of this murder. Those who have literally killed freedom fighters, literally taken freedom fighters to adverse conditions, and played with blood must be brought to justice.
He further said that when our Prime Minister is keeping everything under control and moving forward properly, taking the country on the highway of development when she is establishing justice and fairness, then again there is a conspiracy against her.
Speaking as a special guest, MP Asaduzzaman Noor said that when Bangabandhu announced six points, the opponents of independence realized that the seeds of independence were in this demand. And since then they started plotting. Many books have been published on the heroism of the Liberation War. But there is no evidence about Ziaur Rahman's war or war involvement in any book. Why not found? Because he did not go to war. He started a conspiracy from the first day after returning to the country. That's why I say it's a long-term, far-reaching conspiracy. At that time, he demanded the removal of Ziaur Rahman's grave from the Sangsad Bhavan area and the posthumous trial of those involved in the killing.