Muktijudho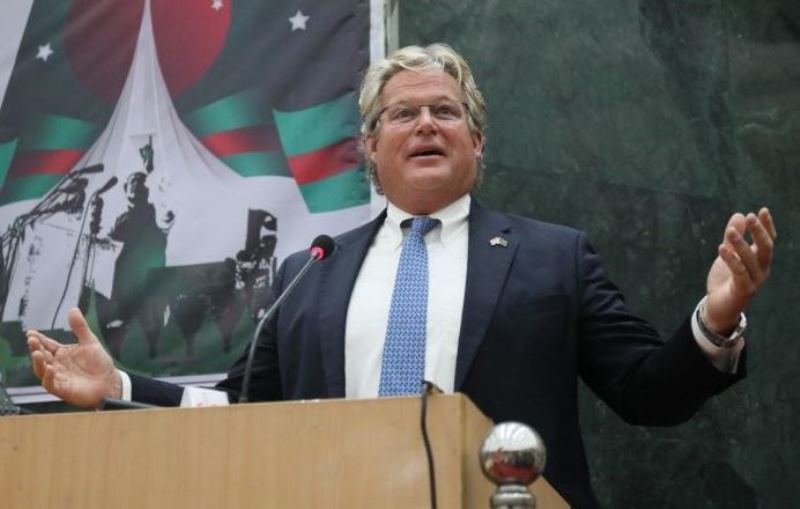 Photo: Collected
Majority of US people supported Bangladesh's liberation struggle: Ted Kennedy
Own Correspondent, Dhaka, Nov 2: Recalling Edward M. Kennedy's moral stand for Bangladesh's just demand for independence, his son Ted Kennedy said that despite the biased policy of the then US administration towards Pakistan, most Americans supported Bangladesh's independence struggle in 1971.
He said in a landmark speech at the Nawab Nawab Ali Chowdhury Senate Building of Dhaka University here on Monday, "I think it is important for all of you to know that the majority of people in the United States were on your (Bangladesh's) side during (your) freedom struggle."
Edward (Ted) M. Kennedy Jr., nephew of the late US President John F. Kennedy, said that the Kennedy family will always support the democracy and prosperity of Bangladesh to build a stronger relationship between Washington and Dhaka.
He said, "The Kennedy family feels a special kinship with the people of Bangladesh who are victims of bloodshed. He arrived here with his family members on a week-long visit on Saturday to mark 50 years of Bangladesh-US bilateral relations."
Ted's father, then US Senator Edward M. Kennedy, took a bold stand against the genocide committed by Pakistan during the Bangladesh Liberation War in 1971, despite the US government's biased foreign policy towards West Pakistan. Pakistan's military administration under General Yahya Khan tried to cover up the massacre in Bangladesh on the night of March 25, 1971. But Edward Kennedy exposed the brutality of Pakistani occupation forces to the world community after visiting refugee camps in India in August 1971.
Kennedy said that his father criticized the then-Nixon administration for supporting Pakistan after returning from a refugee camp and called for America to take a stand "on the right side of history (in favor of independence for Bangladesh)".
Ted said his father said in his report that 'American support for Islamism was nothing less than complicity in the humanitarian and political tragedy of (then) East Bengal.'
In 1972, Edward Kennedy planted a sapling of a banyan tree at the famous 'Battala' on the Dhaka University campus during his visit to newly born Bangladesh.
Ted Kennedy said visiting the banyan tree today was a 'powerful and emotional' experience for him, as he had heard the story of the tree from his father all his life.
"Today I went under the tree and felt my father's presence," he said in an emotional voice.