Muktijudho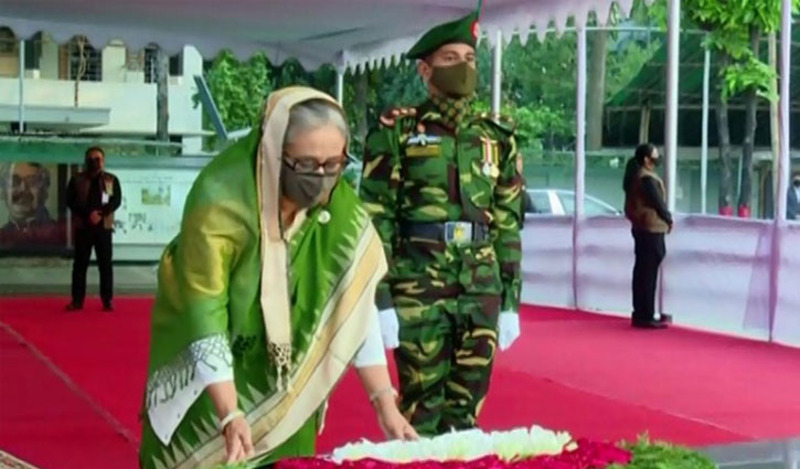 Photo: PID
March 7: Prime Minister pays homage to Bangabandhu's portrait
Own Correspondent, Dhaka, March 7: Awami League President and Bangladesh Prime Minister Sheikh Hasina paid homage to the potrait of the Father of the Nation Bangabandhu Sheikh Mujibur Rahman with flowers on the occasion of the historic March 7.
On Monday (March 7) morning, she paid homage to the portrait of Bangabandhu with flowers in front of the Bangabandhu Memorial Museum at Dhanmondi No. 32. After the Prime Minister paid homage, the No. 32 was opened for all.
After paying homage to the Prime Minister, people of different professions and from several organizations, including Awami League, Chhatra League, Juba League, Swechchhasebak League, various associate and fraternal organizations of Awami League, and various social and cultural organizations, paid homage to the portrait of Bangabandhu.
In his address to a large crowd at the then Race Course Maidan (now Suhrawardy Udyan) on this day in 1971, Bangabandhu called upon the Bengali nation to make final preparations for the War of Independence. Standing in front of a huge crowd, Bangabandhu said, "This time the struggle is for our liberation, this time the struggle is for freedom."
Eighteen days after his speech, when the Pakistani forces started killing the Bengalis, resistance war started at the call of Bangabandhu. The nine-month-long armed struggle brought independence to Bangladesh. On the occasion of this historic day, President Md. Abdul Hamid and Prime Minister Sheikh Hasina have given separate messages.