Muktijudho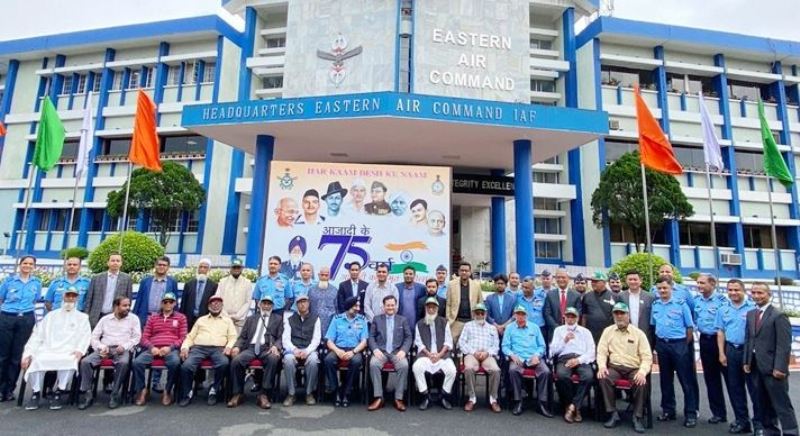 Photo: Collected
Meghalaya: Heroic freedom fighters commemorates 1971 war
Own Correspondent, Dhaka, May 12: At the invitation of the Government of India, a 25-member delegation led by the heroic freedom fighters is in India to jointly celebrate the golden jubilee of Bangladesh's independence.
On the second day of the six-day visit to the Indian state of Meghalaya, the delegation paid a courtesy call on the Indian Air Force and on the third day, the Indian Border Security Force (BSF).
On the second day, on Tuesday (May 10), Air Marshal AP Singh welcomed the Bangladesh delegation on behalf of Air Marshal DK Patnaik, Commander, Eastern Air Command, Indian Air Force, Meghalaya. After that a joint discussion meeting was held. A 10-minute video on Indian activities during the liberation war was shown there.
Heroic freedom fighter Harun Habib spoke on behalf of the Bangladesh delegation on the occasion. Later, gifts were given by the Indian Air Force to all the heroic freedom fighters and the delegation.
On the third day, on Wednesday (May 11) morning, the delegation visited Lord Lake and Amiam Lake in Meghalaya. Later at 3:30 pm, the delegation took part in a programme organized by the Indian Border Security Force (BSF). The delegation was welcomed by BSF Meghalaya Zone IG Indrajit Singh Rana.
Later, Harun Habib, Major General (Retd.) GK Das and Faruk Ahmed reminisced about the liberation.
BSF member BC Roy, who trained Bangladeshis during the liberation war, addressed the meeting.
In both the discussions, the heroic freedom fighters expressed their gratitude to the Government of India and the Indian people during the war. They also called upon the two countries to come forward to further strengthen the friendly relations between the two countries.