Muktijudho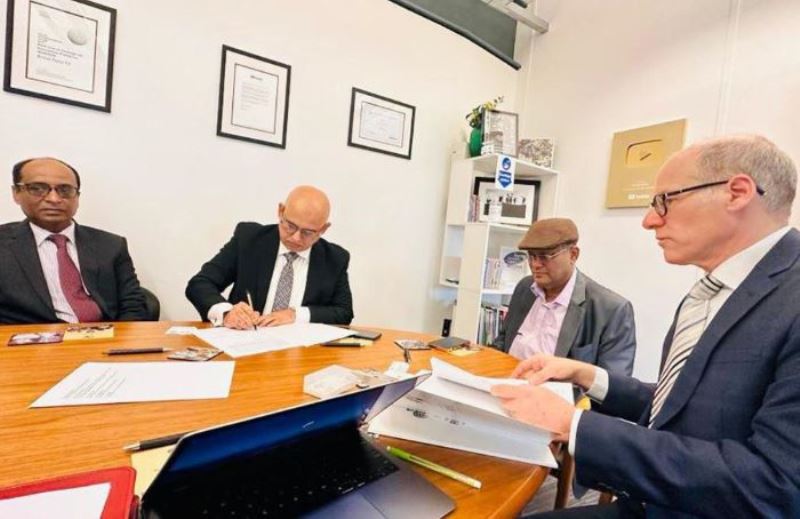 Photo: PID
MoU signed to collect and preserve footage of Liberation War and Declaration of Independence
Dhaka, April 16: Bangladesh Film Archive on Saturday signed a Memorandum of Understanding (MoU) with British Path to collect and preserve historical footage of the Liberation War of Bangladesh and Father of the Nation Bangabandhu Sheikh Mujibur Rahman's Declaration of Independence.
According to a notification received here, Information and Broadcasting Minister Dr. Hasan Mahmud was present at the MoU signing ceremony with British Path, the world's leading multimedia resource for historical documents. The MoU also aims to strengthen the Bangladesh Film Archive.
According to the MoU, the Bangladesh Film Archive under a special project of the Ministry of Information and Broadcasting titled 'Collecting and Preserving Footage of the Liberation War at Home and Abroad and Strengthening the Bangladesh Film Archive' from the British path to the 1971 War of Independence and the continuous persecution of Bangladesh and the Bengali nation. A total of 156 high-quality footages of Bangabandhu's 23-year-long struggle for liberation will be collected.
It also said that Bangladesh Film Archive will also use the footage for non-commercial production of documentary and audio-visual content. Project Director of Bangladesh Film Archive Dr. Md. Mofakharul Iqbal and Chief Executive Officer of British Pathe Alistair White signed the document on their behalf.
On the occasion, Hashan Mahmud said, "The collection of historical footage from one of the world's best archives, which was destroyed after the brutal assassination of Bangabandhu in 1975, will surely enable the preservation of the true history of the declaration of independence of Bangladesh by Father of the Nation Bangabandhu Sheikh Mujibur Rahman and the liberation war of 1971. The Minister expressed hope that the bilateral cooperation between Bangladesh Film Archive and British Pathe will continue in the future to enrich historical audio-visual documents."
Alastair White (CEO of British Path) said, "With the crucial support of Dr Hasan Mahmood, we have cleaned and scanned 156 historical films for use by the Bangladesh Government and inclusion in the Bangladesh Film Archive. We are extremely grateful to Dr. Md. Mofakharul Iqbal and his team at the Bangladesh Film Archive for inviting us to participate in one of the biggest and most important projects we have ever undertaken. We hope that the films we provide will help in the important effort to preserve the history of the Liberation War and honor the people of Bangladesh."