Muktijudho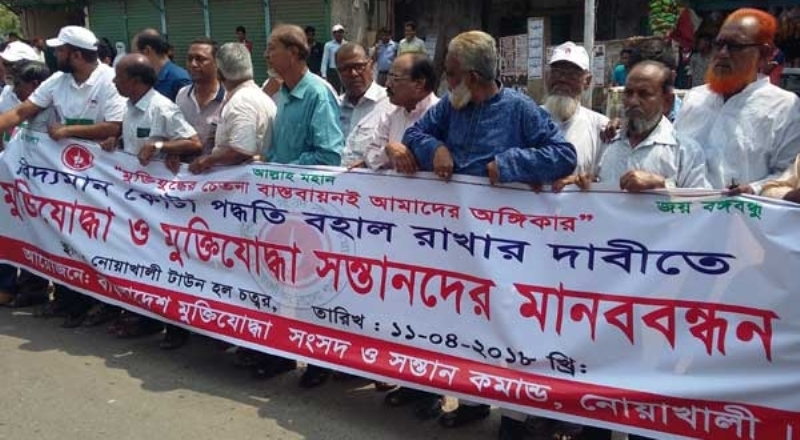 Collected
Muktijoddha children demand restoration of quota
Dhaka, November 25: Bangladesh Muktijoddha Sontan Sangsad has placed a seven-point demand, including reinstatement of Muktijoddha quota in government service. They made the demand at a human chain program in front of the National Press Club in the capital on Wednesday (November 25).
Their demands are to restore the quota in all government jobs to protect the spirit of the liberation war, to list fake freedom fighters in accordance with the constitution of 1972, to recognize the status of the freedom fighters by passing a law recognizing the freedom of freedom fighters' families We have to pass a law to stop wearing, transform the abandoned property of Muktijoddha Kalyan Trust into a for-profit organization, give VIP status to freedom fighters everywhere and try all planned murders including freedom fighters' children Major Sinha and ASP Anisul Karum Shipon.
Speaking as the chief guest, the chairman of the organization Solaiman Mia said that the descendants of Razakar Albadr and Alshams are still active. They agitated for the abolition of quotas. Razakar's children have no right to stay in the country. They have to be sent to Pakistan. He called upon the government to accept the seven-point demand of the Muktijoddha Sontan Sangsad.
Secretary General of the organization Shafiqul Islam central leader said Masood, Abid Hasan, Masum Billah, Rajat Kanti, Beauty Akhter and Sukanta Bhattacharya spoke.
At this time leaders and workers of different districts and units took part in the human chain.