Muktijudho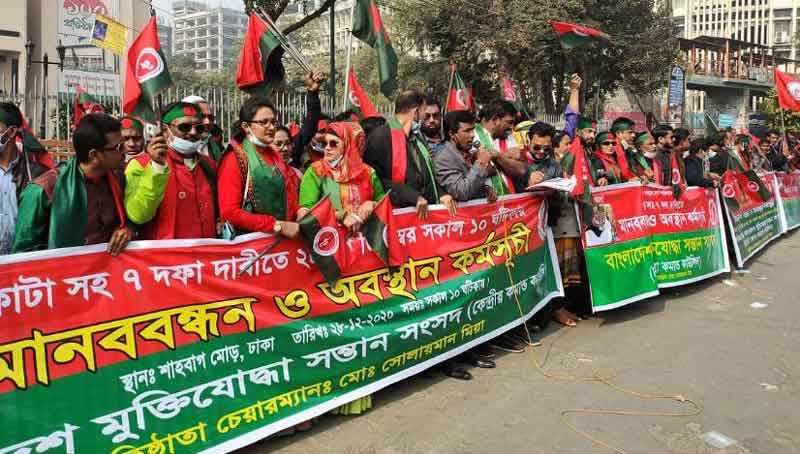 Collected
Muktijuddho Mancha demands immediate reinstatement of 30 percent quota for freedom fighters in jobs
Dhaka, February 1: There have been human chains and rallies demanding immediate reinstatement of 30 per cent quota of freedom fighters in the service, preparation of transparent final list of freedom fighters and end of harassment in the name of screening of freedom fighters every year. The program was held on Sunday (January 31) in front of the National Press Club under the banner of Bangladesh Muktijuddho Mancha.
Speakers at the rally said, "It is very sad that the final list of heroic freedom fighters has not been prepared even after 50 years of independence."
Every year the freedom fighters are being harassed in the name of this verification and selection which is never desirable. "Our call to the Bangladesh Awami League government is to make a clear and final list of heroic freedom fighters before the golden jubilee of independence on March 26," they said. We do not want to see the names of any imposter in the list of heroic freedom fighters.
They said, "A clear and acceptable list should be prepared excluding those imposters who have been illegally included in the list of freedom fighters in the past. No hospital has been built in the name of heroic freedom fighters in the country till date."
Speakers at the rally also said that a movement has been launched to abolish the quota of freedom fighters in 2018 in the conspiracy of anti-independence Pakistani evil force Jamaat-BNP. The 30 percent quota of freedom fighters given by Bangabandhu should be reinstated immediately. Besides, the Bir Muktijoddha Family Protection Act has to be enacted to stop the killing, torture and humiliation of the heroic freedom fighter families all over the country.
President of the Central Committee of Bangladesh Muktiyuddha Mancha Aminul Islam Bulbul and General Secretary Mohammad Al Mamun and other leaders were present at the time.