Muktijudho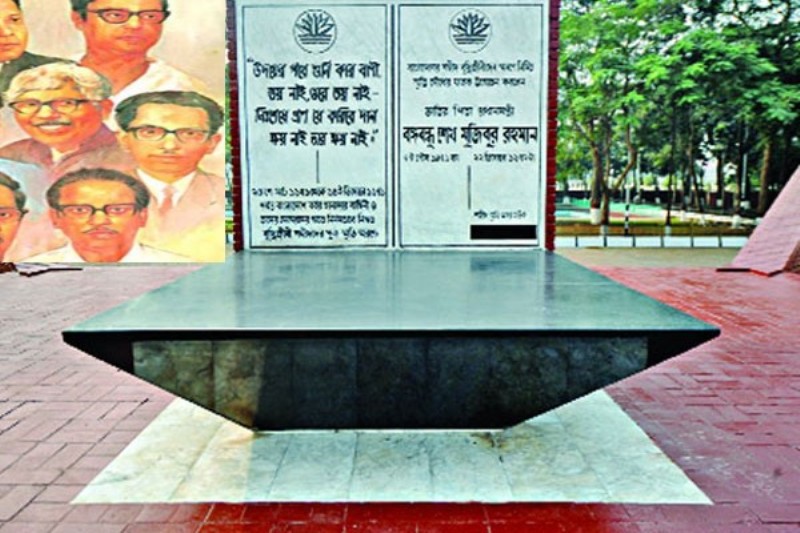 Collected
Nation set to pay homage to martyred intellectuals today
Own Correspondent, Dhaka, 14 December: The nation observing the Martyred Intellectuals' Day today in a befitting manner. Just two days ahead of the country's cherished victory on this day 50 years ago, the occupation Pakistan army in collusion with their local collaborators- Al-Badr, Al-Shams and Razakars- butchered the most prominent intellectuals of the country in a bid to cripple the newly emerging nation of Bangladesh.
A memorial erected in memory of the martyred intellectuals at Mirpur in the capital has been readied as national leaders and people from all walks of life paying glowing tributes by placing wreaths there. The national programs have been chalked out to observe the Martyred Intellectuals Day with due respect. President Md Abdul Hamid and Prime Minister Sheikh Hasina issued separate messages on the occasion.
The Pakistani troops and their Bengali-speaking collaborators belonging to Razakar or other auxiliary forces killed a number of intelligentsia throughout the nine-month long Liberation War. But, the Pakistan occupation force visibly engaged the infamous Gestapo like Al-Badr and Al-Shams personnel on December 14, 1971 to carry out a clandestine systematic campaign to kill the best academics and professionals like doctors, engineers and journalists to turn the newborn nation to a state of brainlessness.
Those who were exposed to the killers' wrath on December 14, 1971 included Dr Alim Chowdhury and Dr Fazle Rabbi, Journalists Shahidullah Kaisar, Sirajudddin Hossain, Nizamuddin Ahmed, SA Mannan and Selina Parveen and litterateur Monier Chowdhury, Prof Govinda Chandra Dev, Jyotirmoy Guha Thakurta, Prof Santash Chattacharjee, Prof Anwar Pasha, Mofazzal Haider Chowdhury and Prof Muniruzzaman.
Most of the December 14 victims were picked up from their houses blindfolded and killed during December 10 to 14 in 1971.
As per programmes, wreaths placed at 7:05 am at Mirpur Martyred Intellectuals Memorial and several television channels including Bangladesh Television (BTV) and private TV channels aired it from the spot.
Led by the Liberation War Affairs Minister, members of the martyrs' families and the valiant freedom fighters placed wreaths at the Intellectuals Memorial at 7:22 am and Rayer Bazar Boddho Bhumi at 8:30 am.