Muktijudho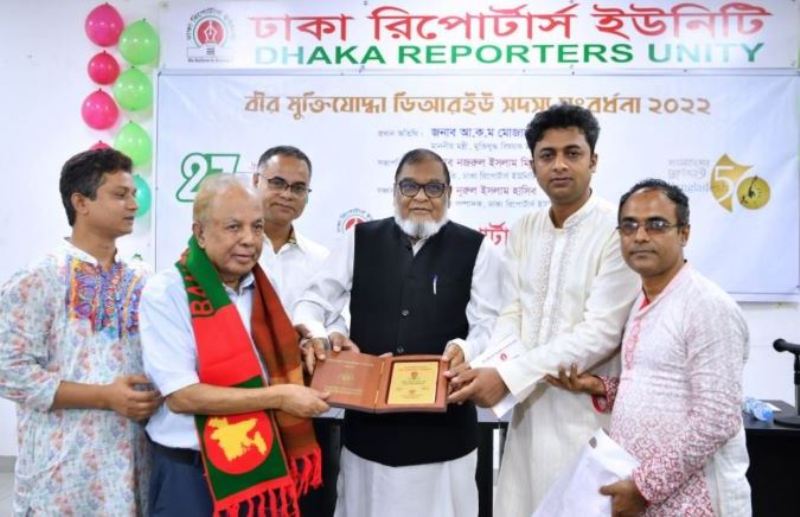 PID
Pen soldiers-word soldiers are also freedom fighters: Liberation War Affairs Minister
Dhaka, May 27: Liberation War Affairs Minister A K M Mozammel Haque said, "Only those of us who have fought with arms in direct confrontation are not freedom fighters. Those who were pen soldiers, word soldiers, are also freedom fighters. No one can apply for freedom fighter again. No one can be a freedom fighter again. Five hundred or one thousand can be attached only through the decision of the Bureau of Appeal."
He was speaking as the chief guest at the 'Bir Muktijoddha DRU Member Reception 2022' organized on the occasion of the 26th founding anniversary of Dhaka Reporters 'Unity at Nasrul Hamid Auditorium of Dhaka Reporters' Unity on Thursday (May 26) afternoon.
The minister said that during the great liberation war, journalist friends collected news of the war. Newspapers were published during the war. Journalists have conveyed the heroism of the liberation war to the people of Bengal. Those who worked during this time are pen soldiers and freedom fighters. Those who were sound soldiers on the radio are also freedom fighters.
The present government is giving various benefits to the heroic freedom fighters, the minister said, adding that the freedom fighters will get free medical services. A new policy has been made. Allocation has been made for the treatment of freedom fighters here. Many people do not know that because there is no publicity. We will inform the people of the country by holding a press conference soon.
Member of Parliament and heroic freedom fighter Shafiqur Rahman said, many people in our country have become freedom fighters reluctantly. And someone went to war on purpose. Today our country has become independent because of the leadership of our leaders. We have cooperated with them. Dhaka Reporters Unity is giving us a reception today, we are happy. Many of our liberation fighters are not yet DRU members. I would be even happier if they could be welcomed here too.
Nazrul Islam Mithu, president of Dhaka Reporters' Unity, said, "We should honour those who have given an independent country, a map of Bangladesh. We are proud to honor them for 50 years."