Muktijudho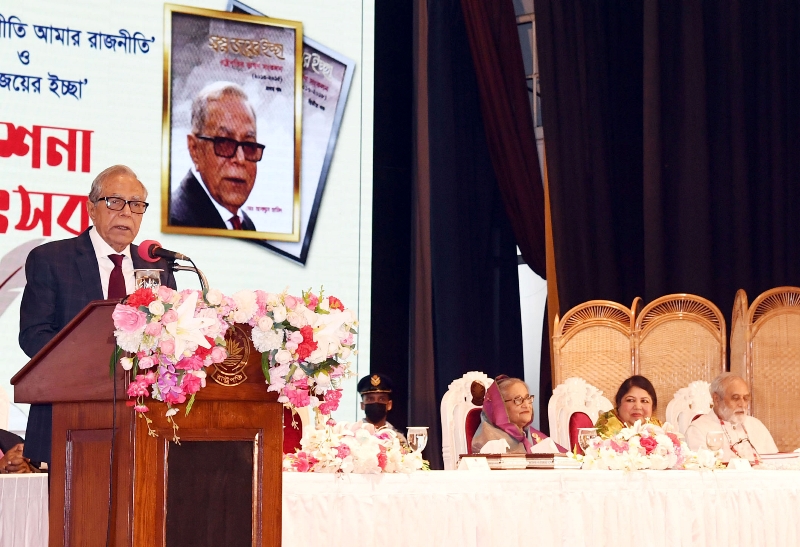 Photo: PID
President calls upon to present correct history of Liberation War to new generation
Dhaka, February 9: President Md. Abdul Hamid has called upon senior politicians to come forward to present the correct history of the Liberation War to the new generation.
He urged the members of parliament and politicians to continue the development work in their respective areas with more sincerity and charity. The President made this call at Bangabhaban on Wednesday evening at the publication of his autobiographical book 'Amar Jibon Niti Amar Rajniti' and a collection of his speeches given at various events titled 'Swapno Joyer Ichcha'. Bangabandhu's daughter Prime Minister Sheikh Hasina was present as the chief guest at the event.
President Hamid highlighted the context of writing an autobiographical book along with presenting the history of his political life to the next generation and said that Bangabandhu is his political idol, from whom he learned politics.
He said, "To spread Bangabandhu's ideals from generation to generation, all those who came close to Bangabandhu need to write autobiographies."
The President said, from the language movement of 1952 to the six points of 1966, the popular uprising of 1969, and the great liberation war — Bangabandhu's ideals, and inspiration gave strength to everything.
Bangabandhu's daughter Prime Minister Sheikh Hasina thanked the President in her chief guest address.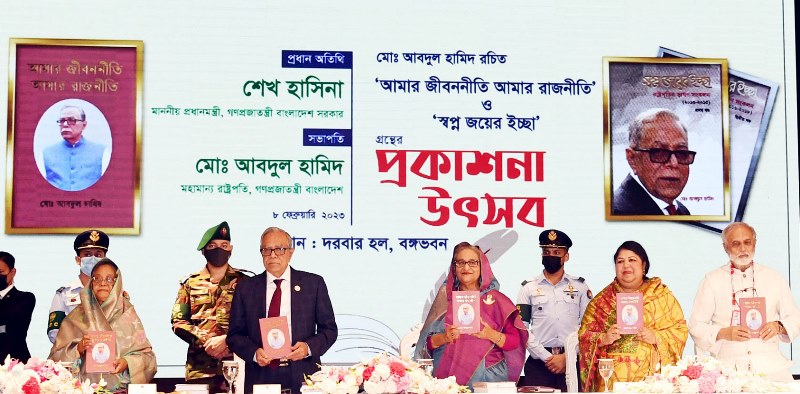 Photo: PID
President's wife Rashida Khanam, Speaker Dr. Shirin Sharmin Chowdhury, the main discussant of the book, prominent politician Tofail Ahmed, member of the Awami League Advisory Council, and Muhammad Nurul Huda, Director General of Bangla Academy, spoke at the event. The programme was conducted by the Director General of Secondary and Education Department Professor Nehal Ahmed.
President's wife Rashida Khanom thanked everyone involved in the publication of the book 'Amar Jibon Niti Amar Rajniti' and said, "I have witnessed many events in the book... especially, the memories of the days of the 1971 Liberation War from my college life still haunt me."
Speaker Dr. Shirin Sharmin Chowdhury congratulated the President and said that this book is a reflection of the President's desire to inform the new generation about the history and traditions of the Liberation War through the seniors.